Share Your Pennsylvania Ghostly Tales, Pictures and Haunted Places
Click Here to Submit Your Ghostly Tale
Now you can read and write random Pennsylvania ghostly tales, see and share PA paranormal pictures, discover and give directions to haunted places in PA.
Enjoy reading ghostly tales visitors have wrote about, see pictures and interesting haunted places in Pennsylvania people just like you are now sharing with the world.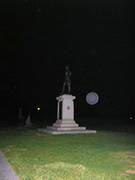 Do you know a secret haunted Pennsylvania place? Maybe you have a ghostly tale you'd like to share. Pictures are always welcome, especially if you have a tale to go with it. There are so many haunted places through the state of Pennsylvania. More than could possibly visit, research and write about. So that's why I'm offering you the opportunity to share your Pennsylvania Ghostly Tales, pictures and places in PA that is either a legend for it's haunted attraction or you have visited yourself.
It didn't take long for Haunted PA to become one of the most popular sections of this website. Through its popularity I started receiving email from visitors to the haunted attractions and telling me about other places and legends in Pennsylvania that should be mentioned.
Do you have a Pennsylvania Ghostly Tale to tell? Just go to the link below and start writing, everybody is waiting to read your ghostly little secrets.
---
A Few Pennsylvania Ghostly Tales from Visitors
After reading The Legend of the White Lady of Whopsy Mountain a lady wrote to me to tell me about another legend called The Lady in White. Here is a copy of her email:
Hi, I am native to PA. I lived most of my childhood in Vintondale. I wanted to let you know that they too have their own version of the Lady In White. She "haunts" the road from Vintondale to Twin Rocks. I really don't know state routes-sorry. She appears in cars with woman. You don't even choose to pick her up. She just appears. You do not feel frightened. She smiles with sympathy at you. Many local men are frightened of her. She has been known to, in many ways, scare that crap out of them. The men all seem to be not so nice individuals. Rage issues, drinking, as the old timers would say good for nothings. It seems the woman are being given a sort of omen by her presence. Most do seem to befall some bad happening through a man at a later date (but really not that uncommon...given the very nature of men and women. Vintondale is a very creepy place. Lots of haunted tales and sightings at the old Furnace. If you are interested I can share more. I just wanted to be sure that the Third Lady In White gets her nod too.
A lady by the name of Stephanie read about the Central Pennsylvania Haunted Houses I lived in over the years, she wrote to me to tell me about a haunted house she just moved into. Here's a copy of her email.
Hi I just moved here from New York. I live in Altoona and I think that the house next door to me is haunted. I'd hear sounds coming from the house even though no one lives there. The neighbors told me that the owner's mother passed away some years ago and he never sold the old house. He uses it for storage and for when he goes hunting in the winter. Also I think the house that I live in now might be haunted, the man who lived here before committed suicide here, that's what a neighbor told me. I do here sounds coming from the basement at night. Do you know of any particular houses that are haunted here in Altoona.? I have always been interested in ghosts, I think that some people who pass away and did not leave in a peaceful way still remain between this world and heaven.
Thanks, love your website !! Stefanie
Kim wrote to me excited to join a ghost hunters group after reading about the Ghost Hunt at the Altoona Railroaders Museum.
I'd like to join a local group of ghost hunters. Are there any in Altoona? I've had past experiences in my life and was told when I was younger that I can pick up energy that others can't. In some ways I'm honored to be able to "feel" what others don't but at times I'm scared of it, lol , Kim
So you see, people just like you that love reading about the many haunted places in Pennsylvania have already written to me. You don't have to be a professional writer or a certified ghost hunter, just contribute a Pennsylvania ghostly tale, legend, picture or haunted place and you'll suddenly enjoy seeing something you wrote, along with your name and location (if you agree to have your name included) printed on the Internet. Feel free to tell your family and friends to come and see what you've written and hopefully join in the fun.
Just go to the form below and start writing!
Don't forget to subscribe to my newsletter, "Things to Do in Pennsylvania"! You'll receive the first issue this spring and it will be loaded with reminders of area events and special announcements.


---
Do You Know a Pennsylvania Ghost Tale?
Here's your opportunity to share your Pennsylvania Ghostly tale. Perhaps you know of a Haunted Pennsylvania place or an interesting legend. Visitors to Pennsylvania Mountains of Attractions love reading about the many haunted attractions. Don't be shy, we'd all love to read your haunting Pennsylvania story.


Read Ghostly Pennsylvania Tales
Written and Submitted by Visitors
Click below to read Stories and Legends of Haunted Pennsylvania Attractions. All stories were written and submitted by visitors to Pennsylvania Mountains of Attractions.

NOTICE!: Pennsylvania Mountains of Attractions is not responsible for any opinions or stories contributed in this section. The stories are posted for entertainment purposes only. Pennsylvania Mountains of Attractions reminds viewers that not all posts are accurate and that many of the sites in this section are privately owned. The views expressed here do not necessarily represent those of Pennsylvania Mountains of Attraction. Pennsylvania Mountains of Attractions reminds the readers that it is illegal to trespass on private properties.


Return from Pennsylvania Ghostly Tales to Haunted PA

Return to Pennsylvania Mountains of Attractions Home