Mysterious Houdini Museum
Tour & Show in
Scranton, Pennsylvania
Harry Houdini Museum, Tour & Show
1433 N. Main,
Scranton, PA 18508
Phone: (570) 342-5555
Although Harry Houdini wasn't born, raised or even lived in Pennsylvania there is a museum in Scranton, Pennsylvania called the Houdini Museum dedicated to this mysterious illusionists.
The Houdini Museum is open everyday during the months of July and August. The rest of the year it's open weekends the rest of the year by reservation. Opens at 1:00 PM and closes at 3:30 PM. They will open any day of the week for groups of seniors or schools, you can even plan a birthday party to be celebrate at the Houdini Museum. Imagine how thrilled children would be to see this show, it would make such a birthday to remember. You can also make reservations to book a show to provide a unique fundraiser! Now here is a fundraiser you wouldn't have any problem raising money for you favorite charity.
This family-friendly show is great for all ages, from 3 to 103. This show can be seen nowhere else in the world. It includes a fabulous fun stage magic show with noted professional magicians with live animals such as doves, a rabbit, and two poodles. The performers have starred on HBO, Discovery, Biography & Travel Channels, as well as ABC,CBS & NBC. Dorothy Dietrich was called by the Columbia Encyclopedia as "one of the most noted magicians of the late 20th century." Includes a fun guided tour of the fabulous collection in the 150 year old historic house, and the rarest film footage of Harry Houdini doing escapes. Seen on hundreds of national television shows.
Harry Houdini Biography
His Life was an Illusion
Known world-wide as Harry Houdini, claimed to be born April 6, 1874 in Appleton, Wisconsin, but he was actually named Ehrish Weiss, born March 24, 1874 in Budapest, Hungary. The youngest of three sons of Rabbi Samuel and Cecilia (Steiner) Weiss, the couple also had a daughter, Gladys. Houdini died in 1926, Detroit, Mich., U.S, reportedly due to peritonitis after his appendix ruptured; the legend that he died during a failed escape is untrue. Another legend has it that Houdini's death was caused by an overeager fan, who ruptured Houdini's appendix with a surprise punch to the stomach. The punch did occur, but scholars think it probably did not cause the appendicitis.
Harry Houdini (1874-1926) - The Great Houdini - is a name that will forever define the term "escape artist." As the Budapest-born, American-bred performer would so often proclaim, "No prison can hold me; no hand or leg irons or steel locks can shackle me. No ropes or chains can keep me from my freedom."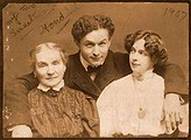 At age 17 he took the stage name Houdini, after the nineteenth century French magician Robert-Houdin. "Harry" was an accepted Americanized version of Erich. By age 20 Houdini had married Wilhelmina Beatrice Rahner (known as Bess); she became his partner onstage as well.
No one before or since has so completely defined the art of escape as Harry Houdini, magician, actor, and stage personality. Old film footage and still photos recall Houdini as generations remember him - suspended upside-down high over the heads of the crowd, escaping from a straitjacket; plunging, manacled, into an icy river, only to reappear miraculously moments later; performing his signature Chinese Water Torture Cell illusion, in which audiences were invited to hold their breath along with Houdini as he made his escape from yet another watery coffin.
Typically, during these early years, Harry would perform his famed "Hindoo Needle Trick, " in which he appeared to swallow 40 needles, then drew them from his mouth, threaded together. Bess became a well-prompted "mentalist, " performing mind-reading routines based on an alpha-numeric code known to her and Harry.
Even in death, Houdini knew how to create publicity. His widow made headlines in announcing a yearly seance on the anniversary of Houdini's passing to try and make contact with his spirit. The ritual went on for some ten years, and though Bess once asserted that contact was made, she later recanted her story. While no longer among the living, Houdini lives on in a collective cultural imagination. After a lifetime of embodying mythic attributes, Houdini has become a myth himself.
Houdini Museum Shows
Attractions, Times & Directions
A visit to the Houdini Museum includes a fun guided tour of the fabulous collection in the 150 year old historic house, and the rarest film footage of Harry Houdini doing escapes. Seen on hundreds of national television shows. Not to be missed. 1433 N Main Ave, Scranton, PA. I-81 to exit 190 (Main Ave) left two miles. We even float a audience member up in the air, pass a hoop around them and float them back down. Great fun, educational and motivational too. Featuring Dorothy Dietrich and Dick Brooks. The fun event can take 2 hours or longer. The earlier tours are fuller and longer.
They have done the Original Harry Houdini Seance here LIVE online for 15 years on Halloween. They also did them for 15 years in New York City which was Houdini's official home town as an adult. Pictured at one of our Harry Houdini seances are magic legends. Walter B. Gibson, Harry Houdini's ghostwriter & confidant wrote the famous Shadow series and over 2,000 books, many on magic as well as on Houdini from the escape artists notes. Bess Houdini asked him to continue the Harry Houdini seances when she stopped. He passed on the legacy, responsibility and honor to celebrity magician Dorothy Dietrich, who's on the Board of Directors.
A totally different event with separate pricing and admission.
HAUNTED! Mind Mysteries & THE Beyond.
Seats available by reservation only.
A completely separate evening event put on by Psychic Theater. "Haunted! Mind Mysteries & THE Beyond" is available year round by reservation only. A different and unique event. GREAT PLACE TO TAKE A DATE. SHE'LL BE HUGGING YOU IN THE DARK! This 3 hour plus event usually starts at ADVANCE RESERVATIONS REQUIRED. Please note different phone number for these reservations.
(570) 383-9297
Mentalism, mind reading, telekinesis, & sightless vision. Learn the story of the murder/suicide/electrocution in this 150 year old historic home. Attend a seance in the dark, which is part of this highly acclaimed 3 hour plus paranormal event! Picked by the Pennsylvania Department of Tourism as one of the ten most haunted events in the state! Not for the weak of heart! No pacemakers please. We dare you to stay to the end! We suggest you reserve several days or weeks in advance. $35.00. Often sold out - RESERVATIONS REQUIRED! Refreshments (soda, cookies, pizza, etc.) free at intermission. As with most theatrical persentations reservations are not refundable. However we will make our best effort to seat you at another performance.
Ghost walks of historic downtown Scranton Pennsylvania (PA) everyday of the year, weather permitting! Depending on the day, walks begin at 5, 6 & 7 PM daily.
Call (570) 383-1821 for more Historic Scranton Ghost Walk Attraction information.
ADDRESS - PHONE & DIRECTIONS 1433 N. Main, Scranton, PA 18508. Phone: (570) 342-5555
GPS Latitude: 41.432156 Longitude: -75.663338
Take I-81 to Exit 190 the Main Ave Exit, LEFT onto Main exactly 2 miles to 1433 N. Main Ave. Scranton, PA. Free Parking. Enter front or back.
DIRECTIONS TO 81 - From the East (NY, NJ, Stroudsburg, etc. 80W to 380N to 81N. From the North East. 84 W to 380 N to 81 N. From the West (Pittsburgh. 80W to 81N. From the South (Philia, etc) Tpk Extension 476N to Pittston exit to 81 N. From Allentown, etc. 33N to 80W to 380N to 81N
NOTICE!: Pennsylvania Mountains of Attractions is not responsible for any of the sites we post on this website. We are reporting the sites and information for entertainment purposes only. We are not legally responsible for any opinions expressed by the sites we mention. All material is as accurate as possible, but we do caution visitors to the site to contact sites that they may want to visit for further information, updates or cancellations.


Return from Houdini Museum to Pennsylvania Memorials & Museums

Return to Pennsylvania Mountains of Attractions Home