Pennsylvania Amusement Parks
Focus On Family Fun
My favorite Central Pennsylvania Amusement Park has always been
DelGrosso Park
, once known as
Blands Park
. Parking and admission is always free. Enjoy the best Italian food, family rides, and annual events at family prices. My 4h of July wouldn't be complete without DelGrosso Parks
Summerthunder.
Visit the 8th oldest Amusement Park in the United States. Lakemont Park was once known as Boyertown USA. It's a beautiful park with plenty of annual events. You'll brag about riding on the worlds oldest wooden roller coaster.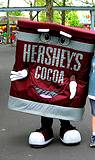 Who hasn't heard of Pennsylvania's most popular amusement park Hersheypark ? Now you can heat it up or cool down at the new Hershey Boardwalk.
You can do all this and so much more without worring about maxing out your credit card or spending a small fortune on todays gas prices.
Pennsylvania Amusement Parks are scattered throughout the Allegheny mountains. Each park has its own unique quality and family attractions.
Speaking of unique qualities, have you visited Kennywood Park lately? Do you know it's actually a National Landmark?
Talk about old fashion fun and rustic settings. Knoebels Amusement Park is one of the few PA Amusement Parks left that offer family camping. You can bring your camper or rent a beautiful cabin, then take a shuttle bus to and from the amusement park. Knoebels Park offers daily shows, tons of amusement rides, and lots of good eating.
Have you ever wondered what makes Sandcastle Waterpark so cool? Just click on the link to find out!
Various attractions and annual events are offered in every Pennsylvania Amusement Park from late spring through early fall.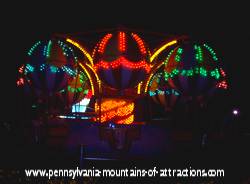 Lakemont Park even has a winter event that makes your holiday celebration a winter wonderland. It's called Holiday Lights On the Lake . You'll see thousands of holiday lights and animated displays. Prices are always affordable for families to enjoy a full day of rides, entertainment and good food.
Most Pennsylvania Amusement Parks offer free admission and free parking!


---
What Does Mr. Rogers Neighborhood and
Native American Pow Wows Have in Common?
You can find them both at Pennsylvania Amusement Parks!
Imagine taking a train ride through Mr. Rogers neighborhood. Idlewild Park is a child's wonderland.
When you wonder through StoryBook Forest at Idlewild Park, your family can spend time with the Little Old Lady that lives in a shoe, Little Boo Peep, Humpty Dumpty, or Mary Had A Little Lamb. Adults and children enjoy Confusion Hill, it's a strange little house that will allow you to interact with illusions.
Do you think your family would enjoy a good old Native American Pow Wow to interact and learn American History? The Native American Music alone is worth the trip.
Step back in time and enjoy a ride on an Award Winning Hand Carved and Hand Painted Antique Carousel.
It's all so simple and stress-free, when you discover all the Historic Pennsylvania Attractions.
Get away from that city heat and stressful traffic. Central Pennsylvania Amusement Parks are shady and at least 10 degrees cooler than the surrounding areas during the summer months.


---
So Much To See And Do
So Little Time
Enjoy Spaghetti Wednesdays at DelGrosso Amusement Park. With unique Italian Dishes and spaghetti, always made fresh with their popular DelGrosso Sauce.
Or cast your vote in one of Lakemont Parks , Thursday night Wing Off Contest. You and your family can enjoy a night of good music and good food.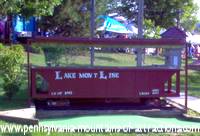 Bring a lawn chair along and enjoy a day of the many free music concerts offered at many Pennsylvania Amusement Parks, often with local talent along with well known and popular artist. DelGrosso Park even offers an American Idol Competition in August!
Rent a canoe or paddle boat and float around on Lakemont Parks beautiful lake all day, or enjoy a day of swimming and exciting waterparks.
If there are thrill seekers in your family try racing a go-cart on the DelGrosso Parks Speedways.
Miniture golf is always a family favorite. Most of Pennsylvania Amusement Parks offer modern miniture golf courses.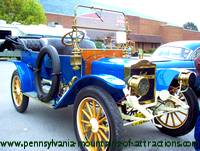 Do you enjoy antique car shows? Many parks and area attractions offer antique and classic car shows and contests, admission is always free.
There is always so much to do, so little time.

Every Pennsylvania Amusement Park is within minutes of other Pennsylvania Attractions.
You can roam through the Allegheny Mountains from one attraction to another on less than a tank of gas.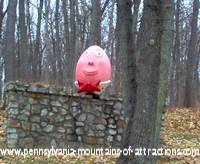 Spend a few days camping at one of the PA State Parks and enjoy beautiful mountain lakes, with sandy beaches, swimming, boating, and hiking through the historic mountain trails.
You can rent a boat by the hour and go fishing or water skiing.
Visit many of our famous haunted attractions. If you dare! You could be sitting next to a ghost while enjoying a family dinner in one of our historic haunted hotels.
It's so easy to enjoy all this and more within a few miles of our Pennsylvania Amusement Parks.
Spend a weekend in Central Pennsylvania and you will see that you don't have to spend a small fortune to make family memories.
Your family will be much more impressed with the easy laid-back country roads, with horse pastures, beautiful farms, and friendly communities. Many times you will pass by an Amish horse and buggy and get a friendly wave from its passengers.
Take a Pennsylvania vacation through the beautiful and shady Allegheny Mountains that allows time to relax and focus on family. You'll quickly remember the simple things in life.
NOTICE!: Pennsylvania Mountains of Attractions is not responsible for any of the sites we post on this website. We are reporting the sites and information for entertainment purposes only. We are not legally responsible for any opinions expressed by the sites we mention. All material is as accurate as possible, but we do caution visitors to the site to contact sites that they may want to visit for further information, updates or cancellations.


Leave Pennsylvania Amusement Parks And Return to Pennsylvania Mountains of Attractions Home