DelGrosso Amusement Park
Annual Native American Pow Wows
15th Annual Native American POW WOW
Saturday July 19th & Sunday July 20th, 2014
DO YOU KNOW OF A PENNSYLVANIA FESTIVAL, FAIR or EVENT?
Suggest a Pennsylvania Festival, Fair or Event Here or Read What other Visitors Wrote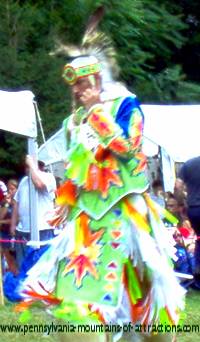 Experience American History at DelGrosso Amusement Park's annual Native American Pow Wows. It's an exciting PA Annual Event where you'll see colorful authentic Native American dress, silver and turquise jewelry,and hear the soft sounds of Native American Flutes being played and sold. You won't want to miss the sacred chants, prayers and dancing.
It is an adventure every American should experience.
These Native Americans have a history on terrorism all their own. Yet, you would never know it with their warm smiles and gracious humor.
Because of what these people have been through in our American history, I was a bit nervous the first time I attended one of our first Native American Pow Wows. I know now it was because of all those cowboy and Indian movies I watched growing up in Pennsylvania. For heavens sakes, I guess I was expecting to get scalped if I did something to offend them. I have never felt more welcome at an event.
I couldn't admire another American culture more than I admire these Native Americans.


---
A Celebration Of Culture
From the moment you arrive at DelGrosso Amusement Park's Native American Pow Wows, all of your senses will let you know you are attending a sacred ceremony.
The steady beating of the drums and the sacred chanting of the Native American Braves is a sound you will never experience anywhere else. You'll be so tempted to chant along, but don't, it truly is a sacred ceremony.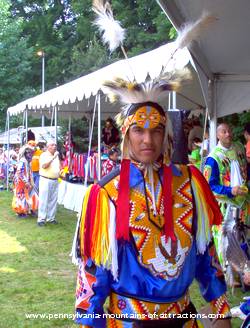 My youngest son was only 5 years old when we attended one of our first Native American Pow Wows. I had a tough time keeping track of him, he was so excited at all the drums and the native dancers.
During one of the ceremonies when the drum beats and chanting had reached its peak I suddenly heard my sons voice immiatating the Braves. He was standing next to the microphones and his voice was unmistakable.
The Native American women were in charge of keeping the children away from the drums and microphones. Somehow my son made it though. One of the Braves stopped chanting and calmly took him by the hand and led him away.
The Brave kindly knelt down beside him and explained that they were praying. Women and children were not aloud to join in the chanting, it was their custom, but he was welcome to dance in the circle.
Standing off to the side was the Tribal Chief in full head-dress. He walked over to my son and pulled a beautiful feather out of his head-dress and handed it to my son. He presented the feather to him and smiled before he went into the circle to preformed an amazing fire dance.
That first Pow Wow we attended was in Everett, PA. It was an adventure my family will never forget.
Since then DelGrosso Amusement Park started holding its annual Native American Pow Wows every July. We live only 10 miles from this PA Amusement Park so we are lucky to attend every year.
Mark your calenders to attend the Native American Pow Wow or many of the other events at the many Pennsylvania Amusement Parks .
---
Native American Children
At
Native American Pow Wows in Pennsylvania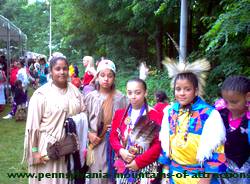 The beautiful Native American women and children are in charge of dancing and interacting with the audience.
The women come out into the crowd to lead the spectators into the circle to join the dance. Once inside the circle you can feel the magic of this PA Festival.
By joining them in their circle and interacting with the dancers, you are honoring them and their culture.
Each dance is different. The chief will give the history of the dance, and explain the prayers. He will go out of his way to make the spectators feel welcome while explaining they don't feel any animosity toward any culture.
The Native American children go throughout DelGrosso Amusement Park, get on rides, eat ice cream, cotton candy and pizza, just like any other child there. They are all smiles and so proud when other children ask them questions about their culture.
They travel the country with their family and love what they do. They are protecting their culture the same as any culture in the United States. Thank God they are now free to do that.


---
War On Terrorism
Since 1492
Interacting with the Native Americans while learning their customs, hearing their chants, and dancing in the circle is a way, like no other, to experience American History.
A whole section of DelGrosso Amusement Park is sectioned off to allow plenty of room for this exciting PA Festival.
Besides all the excitement of the drums and dancing, I really enjoy the many souvenir stands.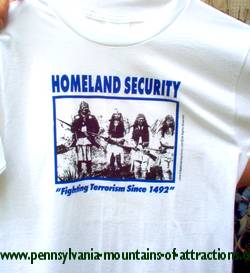 You can find t-shirts, dream-catchers, Native American drums, and feather head dress. Children love to buy these beautiful souvenirs. There is something for everybody to take home and remember the experience of attending DelGrosso Amusement Park's Native American Pow Wow.
I collect t-shirts wherever I go. Although, I usually leave with more than a t-shirt. As you can see my first choice was the t-shirt that reads, "Fighting Terrorism Since 1492".
---
From Soothing Native American Flutes to
Beautiful Native American Jewelry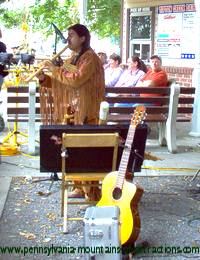 Have you ever heard the music of a Native American Flute? It's such a soothing sound, few sounds these days allow you to close your eyes and dream.
As you can see from the picture many spectators at the Native American Pow Wows at DelGrosso Amusement Park just sit next to the booth and enjoy the relaxing entertainment.
Not only can you buy the music CD, you can also choose from different Native American flutes and practice playing along. The hardest part of buying the CD is choosing which one to buy.
Best of all is all the beautiful hand crafted silver and turquoise jewelry. You can even choose gold if your budget allows it!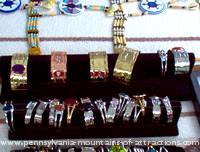 I have a real weakness for anything with a feather on it. I bought a beautiful turquoise and silver necklace and ankle bracelet with a tiny silver feather that dangles from the beaded chains. I cherish these pieces of unique jewelry. Every year I add to my collection.
---
I Can't Imagine A More Perfect Day!
I can't think of anything that would be more special than spending a day with your family outdoors, at one of our Native American Pow Wows. Especially at a family destination like DelGrosso Amusement Park.
With the exciting PA Amusement Park Rides, good Italian food , and the interactive American History taught at one of DelGrosso Amusement Park's Native American Pow Wows, combined with free admission and free parking, how can you possibly pass up this kind of opportunity?


Visit DelGrosso Parks Website

Leave DelGrosso Amusement Park's Native American Pow Wows and Return to PA Festivals

Return to Pennsylvania Mountains of Attractions Home