Your Personal Guided Tour of
PA Festivals & Annual Events
Caution! They're Addicting!
DO YOU KNOW OF A PENNSYLVANIA FESTIVAL, FAIR or EVENT?
Suggest a Pennsylvania Festival, Fair or Event Here or Read What other Visitors Wrote


When was the last time you attended one of the many PA Festivals? Be careful, they can be an addicting Pennsylvania Attraction.
Your choices are endless with four beautiful seasons to choose from while be guided through the Central Pennsylvania Mountains. You'll find a wide variety of PA craft shows and unique area events.
No matter what time of year you choose to visit Pennsylvania you'll always find a PA Festival or Annual Event that will charm you into coming back year after year. Of course I couldn't possible list every festival or event but I have carefully chosen many of my favorites to introduce to you.
Don't miss the annual Pennsylvania County Fairs! Every fair is as unique as the county it's located in.
A Guide to Winter PA Festivals & Annual Events
DECEMBER TO JANUARY
DECEMBER 31 TO JANUARY 1
FEBRUARY
Winter in Pennsylvania is filled with many ski resorts that celebrate with annual PA Festivals. They always provide beautiful weekend get-a-ways for the entire family.


---
PA Festivals Celebrate the Arrival of Spring!
Once our long winter has finally passed there is no better way to celebrate the arrival of spring then our annual PA Festivals.
A Guide to Spring PA Festivals & Annual Events
APRIL-MAY
MAY
---
---
Summer Days & PA Festivals
A Beautiful Mix
A Guide to Summer PA Festivals & Annual Events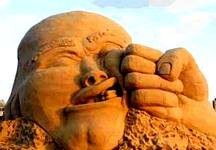 Nothing helps more than a good old-fashioned PA Festival when going through those lazy, hazy, crazy days of summer. Some weekends are so full of events that it's hard to choose exactly where you want to spend your time.
JUNE
July
JUNE-JULY-AUGEST
Summer in the Allegheny Mountains is about family fun, good food, family entertainment, and lots of art and craft shows. It all boils down to the simple life, a simple family vacation without spending a whole lot of money.
If you are visiting Pennsylvania we have all the top quality hotels, motels, and bed and breakfast places to stay. Of course you can always visit our many beautiful PA State Parks and enjoy their many camping facilities. Many also have rental cabins that can be rented by the day or week. Just make sure you schedule your reservation way in advance.
---
---
Fall Finally Arrives with PA Craft and Spooky Festivals
A Guide to Fall Festivals & Annual Events
Ah, my favorite season arrives. I always have mixed feelings during the fall months. The heat of summer is finally turning into beautiful sunny days and cool evenings. The fall foliage is in full swing. Every direction I look I am reminded of why I love the Allegheny Mountains. Yet, I know winter will once again arrive and I'll have to say goodbye to many of my outdoor activities.
September and October are always full of PA Festivals with Handmade Crafts & Halloween Celebrations. The weather couldn't be more perfect for these events. Just like all the other seasons there are times it's hard to figure out where you'll want to bring your family.
SEPTEMBER
OCTOBER
As time allows I'll be adding a lot more PA Festivals & Annual Events to this list. I'm sure you can find a weekend to spend in Pennsylvania and enjoy the simple life we tend to take for granted. I have to warn you at this point, once you attend a Pennsylvania annual event you'll be just as addicted as I am to run yourself ragged to attend all the special PA Festivals before they are gone for another year.
NOTICE!: Pennsylvania Mountains of Attractions is not responsible for any of the sites we post on this website. We are reporting the sites and information for entertainment purposes only. We are not legally responsible for any opinions expressed by the sites we mention. All material is as accurate as possible, but we do caution visitors to the site to contact sites that they may want to visit for further information, updates or cancellations.



Return from PA Festivals and Annual Events to Pennsylvania Mountains of Attractions Home