The People's Choice Festival in Boalsburg, PA
Make Your Plans Now to Attend
Central PA's Annual "The People's Choice Festival"
Boalsburg, PA
Thursday July 10th to Sunday July 13th, 2014
Thursday–Saturday: 10 a.m.–8 p.m. Sunday: Noon–5 p.m.
Pennsylvania Military Museum Grounds
Business Route 322
Boalsburg, PA
Phone: 814-272-1320,
website: http://www.peopleschoicefestival.com
DO YOU KNOW OF A PENNSYLVANIA FESTIVAL, FAIR or EVENT?
Suggest a Pennsylvania Festival, Fair or Event Here or Read What other Visitors Wrote


Of all the festivals throughout Pennsylvania, "The People's Choice Festival" is totally dedicated to Pennsylvania artists and their arts and crafts.
The small community goes all out to welcome artists, craftsmen, entertainers and visitors to their annual Pennsylvania arts and crafts festival.
The town of Boalsburg is only 3 miles from State College, PA. During the same weekend you can find the "Central PA Festival of the Arts" held in downtown State College.
The People's Choice Festival was deliberately scheduled to run the same weekend because The Central PA Festival of the Arts got too big and started accepting arts and crafts vendors from all over the United States and started nudging the Pennsylvania arts and crafts vendors out of the festival.
In 1993 the first People's Choice Festival Event took place in Boalsburg.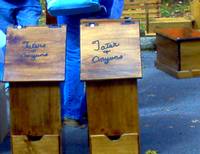 The first Peoples Choice Festival in 1993 had about 50 and only a few food booths and entertainers. In 2006 there were 160 artists, 48 musical entertainers, numerous food vendors, a demonstration village, a young artisan sales area and, best of all, it's estimated over 195,000 visitors enjoyed this homegrown Pennsylvania festival.
The Pennsylvania Arts and Crafts festival is completely set around the Pennsylvania Military Museum grounds in Boalsburg, PA. The food vendors and artisan tents circle the field. Which make it very easy to tour all the artist booths and view everything at a glance. In the center of the circle you'll find entertainment tents, youth activity tents, a dinning area and emergency care area. You'll even find golf carts for those who have a tough time walking too far. It's also a good way to get out of the sun and cool yourself off!
As of 2022, the festival moved from Boalsburg to Centre Hall, which is in the eastern part of Centre County. But don't be alarmed! It's the same arts festival we've all enjoyed for years, with a slightly different setup than before. Many of the same vendors are located there as well. I f you travel there, I'd advise you take the same route you always took to get there, a lot of map software isn't always the most accurate in planning the fastest routes!
---
Explore the Hands-On Youth Activities at
The Pennsylvania Arts and Crafts Festival
Don't worry about entertaining your children while you're enjoying the creative Pennsylvania arts and crafts festival. You'll find yourself felling safe letting your children roam around and getting involved in the guided activities that are created just for children.



Children Explore the Hands-On Science Tent.
A Human Kaleidoscope
A PVC Pipe Organ
A Concave Mirror-lets your children shake their own hands
Demonstrations of Electromagnetism
From the Dominion Science Center
A beach combing activity which you can search for sharks teeth, tiny shells and fossils.
A Chinchilla Exhibit
A Polarized Light Exhibit
An Architecture Exhibit
Colored Gears and Wheels to Build and Invent
Other Popular Events
Ex-pour-iment Factory
Dinosaur Dig
Petting Zoo
Hershey Kiss Mobile Cruiser
Nestle Waters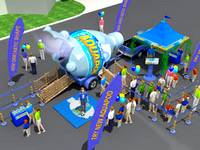 Your children will wonder from one youth exhibit to another with entertainment and hands-on activities that will not only keep them busy while you're shopping, it will also educate them all day long without them being suspicious.
The Nestle Water exhibit will also promote healthy eating and drinking habits, like drinking plenty of water everyday. Your children will love venturing into the huge inflatable water bottle and jumping to their hearts content.
---
Enjoy Pennsylvania Artisans from All Medias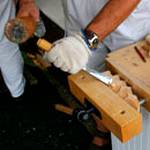 You'll enjoy watching the many Pennsylvania Artisans at work as they display their beautiful art and handmade crafts. No matter what you buy at this unique festival you'll treasure it for years to come. Many of the crafts and art displays are one-of-a-kind. It's an ideal place to buy many of your gifts or buy something special for garden, yard, porch, or just for yourself.
There's no doubt you'll be amazed at the talent and dedication that you'll find at The People Choice Festival. Be prepared to be treated special.
UPDATE: As of 2022 the People's Choice Festival has been moved to Centre Hall, PA, which is near Boalsburg. The layout is a bit different. More information will be added to update this in time.
---
Directions To Boalsburg's People's Choice Festival
From Scranton, PA
From I-81, take exit 151B onto I-80 West.
From I-80, take exit 161 to US-220 West.
From US-220, turn right onto US-322 Bypass towards State College/Lewistown.
From 322, take exit to SR-45/Old Fort.
At stop sign at end of off ramp, turn right onto SR-45 (Earlystown Rd.) to Boalsburg.
Turn right onto Boal Ave.
People's Choice Festival will be on your right.
From Harrisburg, PA
Take US-22 West to US-322 West.
Keep right onto US-322 (Boal Ave.)
Continue into Boalsburg. People's Choice Festival will be on your right.
From Pittsburgh, PA
Take US-22 East to I-99 North towards US-220/Altoona.
Take US-220 to US-322 East/State College.
Pass through State College to Boalsburg.
People's Choice Festival will be on your left.
Contact Information

People's Choice Festival
PO Box 148
Boalsburg, PA 16827-0148


Visit The Boalsburg Peoples Choice Festival Webiste

Return from Boalsburg's The People's Choice Festival to PA Festivals and Annual Events

Return to Pennsylvania Mountains of Attractions Home