Don't Allow Locating A Pennsylvania State Map Discourage You
Enjoy the convenience of having any type of Pennsylvania State Map within a click away when you visit Pennsylvania Mountains of Attractions web site.
If you are just looking to just find a quick view of a Pennsylvania Map click on this link.
Anybody that has ever traveled to Pennsylvania knows historic Pennsylvania is full of beautiful highways and many side roads that offer roadside attractions unlike any other state in the U.S..
Travel through the beautiful mountains and mysterious valleys with confidence when you have the right PA map at your fingertips.
Take your time and search though Pennsylvania Mountains of Attractions website. I'm sure you'll find an abundance of historic and exciting Pennsylvania Attractions you and your family will love visiting and exploring.
Below is a list of just about any kind of Pennsylvania Map you can think of, just scroll down until you find what you need, then click on the link.
Click here for Pennsylvania State Map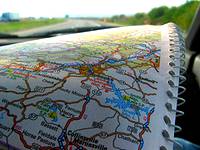 ---
A Convenient Color-Coaded
Pennsylvania Road Map
Relax and enjoy how easy it is to finally find an easy to read Pennsylvania Road Map. You'll see all major PA Roads, PA Interstates and PA Turnpike conveniently color-coded for you.


Click here for Pennsylvania Road Map


---
Pennsylvania Has 67 Counties to Explore!
Below is a link to another type of PA State Map. It's can be extremely useful when tying to find a Pennsylvania Attraction and it's listed by the county it's located instead of the town. You'll find many attractions aren't in cities or located along a busy highway. That's where a Pennsylvania County Map comes in handy.
Click on the link below to see a beautiful colorful PA County Map.
Click here for Pennsylvania County Map


---
PA Turnpike Map
If you're planning on visiting Pennsylvania you find it most convenient using the PA Turnpike. Here is a handy PA Turnpike Map that will not only show the the turnpike you can also see the Pennsylvania Turnpike Exits on graphs.
Click here for PA Turnpike Map


---
Historic Pennsylvania Map From 1895
Do you love Pennsylvania History like I do? When I found this link to a Pennsylvania Map from 1895 I had a tough time clicking away from it. I'm sure it will hold your interest as much as it held mine. It would even be fun to take along on a trip through Pennsylvania if you're interested in the historic attractions.
Just clink on the link below and you'll enjoy a real view of the layout of Pennsylvania over 100 years ago.
I need to warn you, this map is very large and you will need to scroll but well worth the time spent.
Click here for 1895 Pennsylvania Map


---
A Pennsylvania Physical Map
Here's an interesting map showing the Pennsylvania Mountains, Lakes, Rivers, and Valleys. This type of Pennsylvania Map is especially useful to anybody interested in the many Pennsylvania natural assets. This type of map is useful for exploring your options of hiking, camping, boating, hunting, or fishing, while exploring the beautiful forests and wildlife.
The link below will provide you with a Pennsylvania Physical Map of everything you can expect from nature and Pennsylvania.
Click here for Pennsylvania Physical Map