Explore the Allegheny Mountains
Unique Pennsylvania Attractions
The Allegheny Mountains will actually hypnotize you with charming quaint villages and friendly communities. You'll marvel at the lush forest with an abundance of scenic roads, nature trails, breathtaking mountain views and abundance of wildlife.
Spend your vacation camping in the Pennsylvania Mountains and enjoy boating, fishing, hunting, swimming and beautiful PA Camp grounds. Or find a beautiful mountain cabin rustic enough to allow you to interact with nature, yet modern enough to make you feel comfortable.
The Allegheny Mountain Range is also known as the Alleghenies. It stretches 500 miles across from north-central Pennsylvania through western Maryland and eastern West Virginia to south-western Virginia. It's actually part of the Appalachian Mountain Range running from Canada through Eastern United States.
Prince Gallitzin State Park at Glendale Lake is nestled in the Allegheny Mountains. This beautiful state park is named after a Catholic priest that started the first Catholic Colony in Central Pennsylvania. You'll find modern camping, a private beach, and easy road access to this state park.
If you're not looking for camping and easy access to a city try Canoe Creek State Park, it's only 10 minutes from Altoona, PA and you'll have all the conveniences of being a small city yet be able to enjoy the forest, a beautiful lake, with boating, swimming, and hiking trails. You can also enjoy spending the evening at Canoe Creek and take a unique Bat Hike. Watch nature at its best.
Within the Allegheny Mountains are smaller mountains. Many of these mountains became popular from legends passed down through generations. One small Pennsylvania Mountains in particular is Wopsononock Mountain, known through Central Pennsylvania as Wopsy Mountain and the Legend of the White Lady of Wopsy. Here's a video of the view of Altoona from Wopsy Lookout.
From early Spring to late Fall you can enjoy taking a Mystery Tour through Central Pennsylvania. It's a way to enjoy the outdoors with you family and find unique Pennsylvania attractions. And if you like winter, from December through March, it's a veritable winter wonderland. But be warned, travel can be treacherous during whiteout conditions. Sometimes (especially in November and April) you can have whiteout conditions in the mountains while it's raining in the city below.
Visitors Travel From All Over The World
To Visit The Allegheny Mountains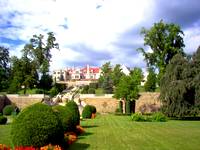 The small community of Loretto, Pennsylvania, is a quaint villages also known as The Most Catholic Town In America.
Once you visit this tiny community you will quickly see how it got this title. You will learn the history of Father Gillitzin, who was once a Russian Prince.
Drink in the beauty of the Sunken Gardens. While you view the beautiful limestone castle, known as Immergrun, built by millionaire Charles Schwab, in the beautiful gardens of Mt. Assisi.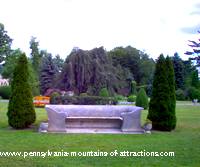 Just a short distance down the road from Mount Assisi is St. Michaels Church. See the tomb of a Russian Prince named Father Gallitzin, and learn of his history that dates back to 1799.
Mount Assisi pays tribute to their love and devotion of The Shrine Of Our Lady Of Fatima every month. Read the history of Our Lady. Maybe you'll have a chance to schedule a trip for daily devotion.
When you take a stroll through the Sunken Gardens of Mount Assisi you will see The Ten Stations Of The Cross, St. Francis, and The Fisherman, just to name a few. The beautiful Allegheny Mountains attract people from all over the world. It is the natural scenic beauty of these mountains that make them a popular PA Attraction. Any words I use to try to describe the beauty of the gardens couldn't possibly do it justice.
The grounds are cared for by the Franciscan Friars. The minute you walk through the gates you will see and feel the love that is devoted to The Allegheny Mountains Sunken Gardens.
This holy ground is there for you to enjoy and drink in the beauty. It's a rare and unique journey.
---
Travel Along The Historic Lincoln Highway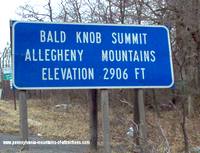 Spend a day traveling the Allegheny Mountains Historic Lincoln Highway . It's an entire highway of roadside attractions of art, history, and beautiful scenery.
You'll climb to mountain peaks, and into valleys. You'll read signs along the way that will educated your family of the rich history of the Lincoln highway and Pennsylvania.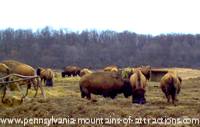 You family will marvel at the buffalo herds, painted murals on the side of barns and Pennsylvania Artisin gift shops. Each turn and bend in the road you will run into surprises that you could never imagine.
Take to opportunity to stop at the many gift shops and old fashioned diners. You'll enjoy old fashioned family meals at prices you didn't know existed anymore.
The beautiful Allegheny Mountains also offer countless PA Festivals and Annual Events year round.
Your visit wouldn't be complete without stopping at the many Pennsylvania Memorials . Many are hidden through the mountains and in the small communities.
It's all here, in the beautiful Allegheny Mountains.
I hope something you have read will inspire you to plan on visiting The Alleghany Mountains in Pennsylvania.

Return from the Allegheny Mountians to Pennsylvania Mountains of Attractions Home