The Sunken Gardens are nestled in the Allegheny Mountains of Pennsylvania. The small historic community of Loretto was founded in 1799, as a Catholic Colony, by Father Demetrius Augustine Gallitzin. He was a former Russian Prince, who denounced his wealth to serve The Catholic Church.


Start by doing what's necessary,
then what's possible,
and suddenly you are doing the impossible.

Saint Francis



---
Stroll Through The Allegheny Mountains
Beautiful Sunken Gardens
As you stroll through the Allegheny Mountains Sunken Gardens you will travel turning west to north then turning east to south.
The first statue you will notice in the Western Pergola is St. Anthony of Padua.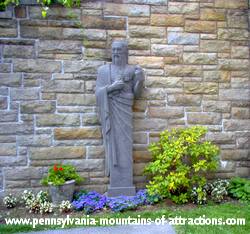 In the Northwest corner of the gardens is a statue depicting Dionysus, the Greek god of wine, sculpted by Paul Manship.
In the North corner you will find The Our Lady Of Fatima Shrine.
In the center of the north section is where you will see the cascade waterfalls
The Northeast corner of the Allegheny Mountains Sunken Gardens is another statue depicting Hermes, the messenger to the Greek gods, also sculpted by Paul Manship
In the Eastern Pergola houses the statue of St. Theresa of the Child Jesus
Also in the center of the Eastern section directly behind the statue of St. Theresa is the Rock Gardens and it houses the statue of St. Michael the Archangel
You will find the statue of St. Maria Goretti in the sounter corner of the gardens
The Fish-Boy Fountain is located in the center of the South section of the Sunken Gardens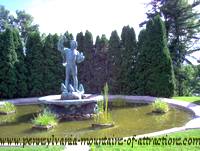 The last Statue on the South side is St. Francis of Assisi
In the Center you will find a statue of St. Joseph and the Child Jesus
The Unknown Jewel Of The Alleghenies
Also in the Center of the Sunken Gardens is The Reflection Pond, when you look through all three ponds you will see the reflection of the Limestone Mansion.
The Limestone Mansion, also known as The Unknown Jewel of The Alleghenies, has a history of it's own. It dates back to 1847.
Millionaire, Charles M. Schwab, built The Limestone Mansion for his mother.
The Franciscan Of The Third Order came to own this amazing estate.
Once you bring your family to The Allegheny Mountains and visit Mount Assisi it will quickly become of of your families favorite family attraction that you will want to visit over and over again.

Leave The Allegheny Mountains Sunken Gardens and Return To The Allegheny Mountains

Return To Pennsylvania Mountains of Attractions Home