PA State Parks Uniquely Hidden
Through The Allegheny Mountains
ALLOW ME TO BE YOUR GUIDE
THROUGH THE ALLEGHENY FOREST
AND INTRODUCE YOU TO UNIQUE PA STATE PARKS
PA State Parks are uniquely hidden in the Allegheny Mountains. Drive on top of the mountains or down in the valley, look in any direction, you won't see a State Park.
The Allegheny Mountains are lush with forest and natural wonders. I have lived in these mountains all my life and I am still discovering state parks, waterfalls, and historic places.
If you love the outdoors but concerned about finding a safe family get-away, then PA State Parks is exactly what you need to experience.
Pennsylvania is an outdoor lovers paradise. With 2.1 million acres of state forest land and 117 state parks protected for public use, you will never run out of places to go and beautiful PA camping areas. Our PA State Parks are by far the most popular Pennsylvania attraction.
Even though Raystown Lake really isn't considered a Pennsylvania State Park it's still listed as one. The U.S. Army Corps of Engineers actually own and operate Raystown Lake.
Raystown Lake is also known as the Pennsylvania Jewel and one of Pennsylvania's Best Kept Secrets. The breathtaking views, accommodations and surrounding attractions will keep your family busy and entertained.
---
PA State Parks are Historical Legends
The Forest Rangers love to gather families at the amphitheaters almost every evening to show movies and educate children about forest safety, wildlife, survival skills, stories and legends of the history of Pennsylvania and the important role PA State Parks played in providing refuge to the Native American Indians.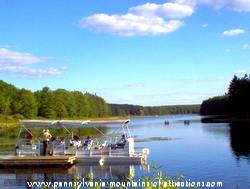 Hike through centuries old forests, challenge whitewater rapids, catch a glimpse of our wild elk herd or sleep under some of the starriest skies on the East Coast.
Experience our Pennsylvania State Forests. You'll find them well suited for camping, swimming, hiking, biking, rock climbing, kayaking, geocaching, sailing, and so much more.
Your family will enjoy vast forests, open fields, and clear streams. Enjoy thousands of miles of roads for hiking, awesome scenic views, flaming fall foliage and picturesque drives.
As I guide you through each PA State Park you will notice there are no two state parks alike. Each park has its own unique attractions and history. One State Park may have a beautiful lake and another my have a simple river or stream running through it.
Some camping areas may have electric hook ups and modern bath fascilities while others may only have the bare necessities or no camping area at all.
My Favorite PA State Parks
No matter what type of PA State Park you are looking, from a lazy quiet day of fishing along a mountain stream to motor boats and water skiing, you'll find a state park just the right size to meet your family needs.
---
Enjoy The Journey
From breathtaking views to horses grazing in pastures, the journey will relax you and bring you a step back in time when life was a journey of adventures everyday. You will run into Pennsylvania attractions in the small communities along the way you didn't even know existed. Slow down and meet some of the friendlist people in the U.S., enjoy the simple life, interact in the festivals and roadside attractions.
Pennsylvania Forests and PA State Parks are a hunting and fishing paradise. With 1.7 million hungry trout, along with small mouth bass, large mouth bass, rock bass, and muskies, just to name a few. It is no wonder many of our U.S. Presidents come to PA for their outdoor sports.
Maybe you would love the idea of renting a pontoon boat and float along a beautiful lake all day, maybe do a little fishing while your at it. If that sounds a little too relaxed for you taste, try renting a motor boat and go water skiing, or enjoy peddling around the lake on a paddle boat. Maybe drifting along on a riverboat with a cold drink and music is more your style. It's all here, you just need to know where to find it.
You can enjoy it all, with a little exploring and imagination. The history alone is worth exploring the Allegheny Mountains PA State Parks.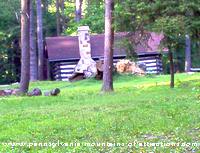 If you're not the type to go camping you can still enjoy all the attractions at the PA State Parks and stay in the many local motels and hotels.
Mountain cabins are available to rent for a weekend or a weeks stay? You'll find beautiful cabins in many of our state parks, and the rental price is so reasonable you may decide to leave your camper behind.


---
There Is Still Lots To Explore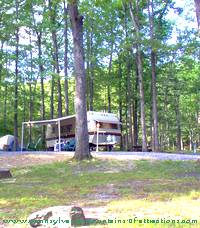 Although I haven't had the opportunity to camp at all of the PA State Parks, I have enjoyed family picnics and lazy summer days at many of them.
I hope to keep exploring the mountains to find more state parks, attractions, and learn more history, while expanding this website.
Most important I will list the location and directions. Along with any family attractions nearby.
Keep checking back often for updates and new listings.
If you would like to keep track of my new listings, just click on my RSS feed.

Return from PA State Parks to Pennsylvania Mountains of Attractions Home