Black Mashannion State Park &
Camping in the Pennsylvania Wilds
Camping in the Pennsylvania Wilds
A Unique Family Adventure at Black Mashannion State Park!
Discover Nature at its Very Best.
Experience camping in a PA State Park in the Pennsylvania Wilds. Black Mashannion State Park allows visitors to enjoy
cool summer days and excellent winter activity
, made possible by the unique geology of this Pennsylvania State Park.
One of our biggest PA Attractions are our beautiful lush forests, rolling mountains, and PA State Parks, each unique in their own way. Visit the Pennsylvania Wilds high atop the PA Mountains for unique scenery, weather, and wildlife.
Two features chill the park, high elevation and a slight basin shape that traps the cooler, heavier air. Because of this, you can enjoy wildlife and plants at Black Mashannion State Park that is normally seen much farther north.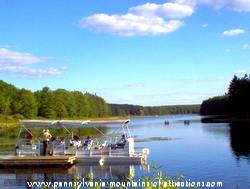 Your family can enjoy a clean sandy beach to play and swim, along with hiking trails full of wildlife that will amaze you.
The beautiful lush foliage and healthy and unique wildlife offers interactive educational opportunities that can never be experienced in a classroom.
According to local tradition, American Indians called this watershed "Moss-Hanne" meaning "moose stream," thus the origin of the park's name. Appropriately, the "black" in Black Mashannion State Park name describes the tea-colored waters. Enjoy swimming in black waters so cold and clean you might be tempted to taste it.
During one of our visit I was questioning a PA Forest Rangers about the water we were swimming in. I couldn't get over the black colored tinted water. I'll never forget watching him fill his glass with lake water and drinking it to prove how clean and pure the lake was. So don't let the name fool you, or the color of the water, it really is pure clean water fed by Pennsylvania Mountain streams.
The 250-acre Black Mashannion Lake is fed by clear springs and small streams which flows through the bogs that stretch in most directions from its shores. As the clear water flows through sphagnum moss and other wetland plants, it becomes colored by plant tannins. In a sense, the bog vegetation acts like a giant teabag to color the water.
I've enjoyed many summer days and weekends camping at Black Mashannion State Park with my family. It's a beautiful PA State Park with a variety of activities to keep all family members entertained. Yet, private and quiet enough to enjoy a relaxing vacation that most PA State Parks can't offer.


---
Natures Wonderland of Accomdations
At Black Mashannion State Park
When you first arrive at Black Mashannion State Park you will be fooled by its size. Although it is one of the smaller PA State Parks it doesn't lack in activities or room to explore.
Choose from 80 campsites, each with its own picnic table and fire ring, most can accommodate either a trailer or a tent.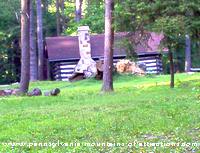 You might be lucky enough to reserve one of Black Mashannion's13 rustic mountain cabins. Each cabin have minimal furnishings, modern stoves, refrigerator, electric lights, a wood-burning stove and bunk beds.
If you're really lucky and get your reservation in early you might enjoy one of 6 modern cabins. They come complete with electric heat, bedrooms, living/dining room, with full kitchen and bath. These can be rented year round.
Or just come to spend the day and enjoy all of Black Mashannion State Park facilities, including 250 picnic tables spread out throughout the park. Some areas have pavilions that can be reserved if you're planning a large family gathering.


---
Amazing PA Wildlife Through
Black Mashannion State Park
You'll be amazed at the PA Wildlife you'll see through the forest at all Pennsylvania State Parks but especially at Black Mashannion.
It's extremely common for visitors to run across chipmunks, songbirds, and at dusk, bats! If you enjoy venturing deep into the forest or just sit quietly around your campfire you might see deer, raccoon, opossum, porcupine, flying squirrels, woodpeckers, wild turkey, grouse, skunks and hawks. Occasionally visitors have come across fox, weasel, bobcat, coyote and ravens and of course bears.
In my opinion the most exciting wildlife to watch are the black bears! It is not uncommon at all to see a Mama Black Bear traveling along through the forest with her cubs in Black Mashannion. They love snacks and leftover foods left on the grills and around your campsite. It's wise to keep your food stored in tight containers and inside your camper. Keep your eyes open for bear traps located around the camping area.
Below is a picture of the Black Mashannion camp store. It's stocked with just about everything you'll need for your camping experience. You can even enjoy your favorite sandwiches and snacks while sitting on the deck overlooking the lake.
Another great little PA State Park that was named after the Shawnee Indians is located in Bedford County. It's name is, what else, Shawnee State Park. There's a lot of history in that area about this Indian tribe.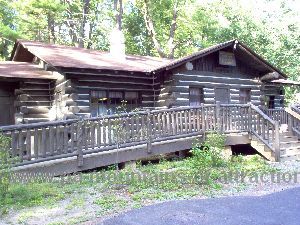 ---
Directons And Information to
Black Mashannion State Park
Black Moshannon State Park is in Centre County on PA 504, nine miles east of Philipsburg.
Call 888-PA-PARKS to reserve a cabin, campsite, pavilion or group tenting area. Reservations are accepted up to 11 months in advance and up to two days before arrival. Campsites may be reserved up to noon of the day of arrival.
---

Return from Black Mashannion State Park To PA State Parks

Return To Pennsylvania Mountains of Attractions Home