Shawnee State Park Provided
Refuge for the Shawnee Indians
The Shawnee Indians and Shawnee State Park have Historic Ties to the Famous Haunted Jean Bonnet Tavern
The Shawnee Indians used Shawnee State Park as a refuge in the early 1700s during their westward migration from Potomac. This is one of the few PA State Parks named after a Native American Indian Population, the Shawnee Indians.
Many PA State Parks were used as refuge for the American Indians during their relocation to the Indian Reservations.
The beautifulShawnee Lake covers 451 acres of the 3,983 acres of the Pennsylvania Scenic Ridge and Valley Provance. The lake is a real focal point of Shawnee State Park.
Camping in PA State Park at Shawnee might be bit rustic but I'd still say it's one of the most beautiful, historic, PA State Parks the Allegheny Mountains has to offer. Although, every PA State Park has interesting history and unique attractions for your family to explore.


---
Shawnee State Park; Shawnee Lake
Provides Islands To Explore

Shawnee State Park has 293 campsites. Camping in PA State Park just don't get much better than this. You'll enjoy a mixture of American History, rustic trails, along with modern conveniences.
65 of the campsites have electric hookups.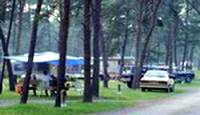 Imagine lighting your campfire for the evening. While sitting there in the middle of the forest you begin to realize the Shawnee Indian Tribes lit their fires for their evening meals in the same location. This land once provided a home, food, and refuge for the historic Shawnee Indian Tribe. It's not unusual for campers and hikers to run across an old Indian Arrow Head.
During your visit you can enjoy 15 miles of hiking trails, and 7.5 miles of Lakeshore Trials for Bicycling, a beautiful Sandy Beach for swimmers and sun lovers, along with clean Concession Stands.
There are three Boat Launches, supplied with 183 Boat Mooring Spaces, all this makes Shawnee State Park a camping in PA State Park paradise.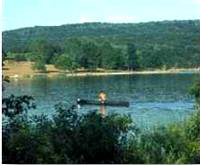 Bring your boat or rent one and explore the different Islands. Each Island has a history of its own.
Everything you could possilby expect from a PA State Park you will find at this historic location. Spend one day or spend you weeks vacation, either way, you'll fall in love with Shawnee State Park.
Shawnee Lodge: Centrally located on an Island in the middle of the park, this three-story house offers year-round accommodations with panoramic views of Shawnee Lake and the surrounding countryside.
The lodge is ADA accessible and can be rented. It has a modern eat-in-kitchen, one bathroom, living room, sitting room, four bedrooms that sleep eight, porch and yard with fire ring and picnic table. All this with a beautiful view of Shawnee Lake.
The white barn, buildings and houses now surrounded by a lake of water were once surrounded by a sea of grass. These buildings belonged to John Bowman's "Water Brooks Farm."
John Bowman was President and Chancellor of the University of Pittsburgh and was the driving force behind the building of the Cathedral of Learning.
---
Enjoy Activities Year Round
At Shawnee State Park
Every season holds its own excitement of activities at Shawnee State Park. Have you ever tried
? Snowmobiling, ice skating, or tobogganing? Why sit inside all winter when you can enjoy so many activities at any of the PA State Parks?
Spring and Fall are great to take a hike through the many historic hiking trails. The weather is perfect for outdoor activity. Nature has a way of looking its best as its coming into bloom or showing off its fall foliage.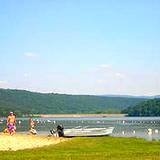 Of course Summer is perfect for about anything. Shawnee Lake is so inviting through the summer months. Rent a boat or bring your own along. The clean sandy beach, clear mountain water, along with a safe place for the little ones to play, are all what summer is all about.
Spend a warm summer evening gathered around a campfire with an environmentalist enjoying informative discussions, movies, and slides. Go along on nature hikes and learn about many survival skills. It's a great way to learn this area's history and the many stories of the Shawnee Indians.


---
Take Advantage of The Many
Historical Attractions Nearby
Travel along the historic Lincoln Highway , it's full of rich history and known as a 200 mile museum. Watch your family's faces when they see the bison grazing in a simple field as you travel along the highway.
Stop by the The Old Bedford Village for an interactive view into Pennsylvania History. You'll find yourself getting lost in time as you step back in time.
Whatever you do, make sure you visit Gravity Hill , it isn't far from Shawnee Lake and you'll be amazed at how this weird little area defies gravity. Your family will wonder how on earth you found these places!


---
DIRECTIONS AND CONTACT INFORMATION
US 30 and PA 96 pass through Shawnee State Park. Its location is Ten miles west of historic Bedford along US 30.
Call 888-PA-PARKS, 7 a.m. to 5 p.m. Mon. - Sat.
If you need an accommodation to participate in park activities due to a disability, please contact the Pennsylvania Bureau of State Parks: 888-PA-PARKS (voice) 888-537-7294 (TTY)