The Historic Lincoln Highway
High Atop the Allegheny Mountains
DO YOU HAVE A PICTURE OR MEMORY OF PENNSYLVANIA YOU'D LOVE TO SHARE WITH THE WORLD?
SEE WHAT OTHER VISITORS HAVE SHARED!
Just click on the link below - it's so easy!
Share Your Pictures of Pennsylvania and Memories


Your family will be amazed by the many Roadside America PA Attractions along the PA Lincoln Highway. Pennsylvania Travel Planning couldn't be easier as you drive through the Allegheny Mountains. The entire route is marked out for you!
Even though The Lincoln Highway runs coast to coast, the PA Historic Lincoln Highway runs through 6 Scenic Pennsylvania Counties.
Travel the 200 Mile Museum through the Allegheny Mountains, you'll travel through Westmoreland County, Somerset County, Bedford County, Fulton County, Franklin County, and Adams County.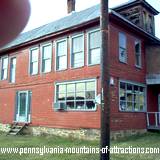 In Bedford County you can see the Historic Lincoln House, it's a roadside historical attraction on the Lincoln Highway. It's historically known for it's many ghost hauntings. Now an antique shop but once known as the best little PA Brothel.
Take a rest and enjoy Pennsylvania Colony History at the Historic Jean Bonnet Tavern. It's an historic site that dates back to the 1700s. Enjoy fine dinning at this Colonial Bed and Breakfast.
Each county and community will charm you with their own unique way of allowing you to interact with Pennsylvania History.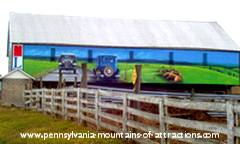 Slow down and enjoy discovering the world of this Highway Heritage Corridor. The entire Route 30 is loaded with historic landmarks, Pennsylvania attractions, beautiful barn murals, a buffalo ranch, and scenic views rarely seen in these rushed times. The Lincoln Highway is one of the oldest Pennsylvania Travel Attractions.
Although our interstate highways have given us the freedom to travel from one location to the next at fast speeds and record time we miss so much excitement along the way. It's awfully hard to enjoy the journey when we can barely see the exit signs, let alone interesting Roadside America PA Attractions.
The Pennsylvania Allegheny Mountains have 12 beautiful heritage routes to choose from.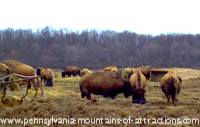 When was the last time you took a simple, old-fashioned family drive? You'll discover your trip will be so much safer and relaxing, not to mention what you'll save on expenses. It's a beautiful family weekend get away your entire family will enjoy by running into surprises like the Bison Corral. Right across the road is the Bison Gift Shop loaded with gourmet Bison Meat and Native American handmade pottery and jewelry.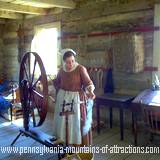 Take a step back in time and visit living Pennsylvania History at The Old Bedford Village. It's located in Bedford, PA and it's an important stop while visiting the area, it's only a short detour from the Historic Lincoln Highway.
The Historic PA Lincoln Highway is also known as the Artisan Trail, Handmade along the Highway. You will find so many little unique shops selling ceramic, handmade crafts, hand made wood working, paper-making, and glass blowing gifts. Stop by the small shops and browse around, you'll find items you didn't know existed anymore.
---
Unique Roadside America PA Attractions
Travel Pennsylvania Lincoln Highway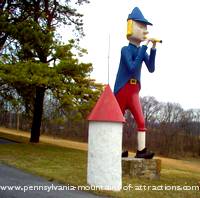 When was the last time you drove past a Giant Praying Mantis, a Coffee Pot higher than many houses, or a Giant Pied Piper tooting it's horn? Watch your children's faces light up they beg you to stop to take some pictures.
This Giant Pied Piper can be found on the Historic Lincoln Highway between Bedford County and Somerset County. If you make a right turn into the parking lot you'll find a gift shop and above the gift shop you'll see a privately owned fantasy forest. You'll see giant figures like, The Three Bears Cabin, Little Crooked house, Old Shoe the little old lady lived in. Like I said, it's a privately owned property, but you can see most of the figurines from the parking lot.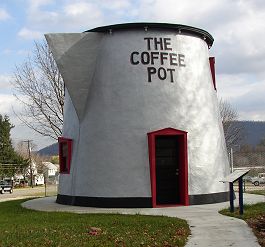 This huge Coffee Pot was built in 1927 and was once a lunch stand. It is one of Five Giant Coffee Pots left in the United States. It started to deteriorate over the years, but since it's restoration it is quickly becoming a favorite tourist attraction in Bedford County again. You can find it at the Bedford County Fairgrounds.
If I were to give any advice at this point it would be to drive slowly, be cautious of sudden stops, and don't blink or you'll miss something. The Historic Lincoln Highway Pennsylvania Attractions are so easy to pass by if you don't keep alert.
One of my favorite surprises was a Big Old Carved Tree I found by accident. I have no idea who carved the face on this tree, but I found it intriguing. Every time I look at it I have to smile back. I wonder how many people traveling along the Lincoln Highway will find this tree!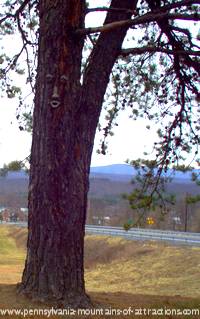 Always expect the unexpected when you travel PA Lincoln Highway along Route 30. You just never know what will be around each curve of the road. The one thing you can depend on is you will see Historic Route Signs that will make your road trip planning so much easier and less frustrating when traveling along through the Allegheny Mountains.
---
The Historic Ships Hotel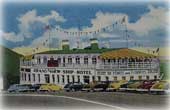 The S.S. Grandview Point Hotel, also known as the Ships Hotel, was The Historic PA Lincoln Highways most famous Pennsylvania Landmark. Without a doubt its history is one of the most famous Pennsylvania Attractions.
There are many people across the country that still don't realize the hotel burned to the ground on October 26, 2001, at 2:30 AM. The cause of the blaze is still unknown. The Pennsylvania History behind this hotel will live on as legends.
Before the hotel was built, there was a small refreshment stand at the The Lincoln Highway Mountain Peak. The S.S. Grandview Point Hotel was built in 1932. It was transformed into the shape of a steamer ship. People came from all over the country to dine and spend a night. See pictures submitted by Carol Bell of Ohio of her grandmother and the U.S. Grand View Hotel taken in 1933. Some famous guests where Thomas Edison, J.P. Morgan, Henry Ford, Will Rodgers, John Barrymore, Joan Crawford, and Calvin Coolidge.
The Ships Hotel fell on hard times when the Pennsylvania Turnpike was built.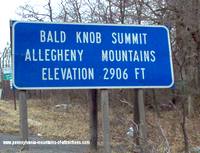 Even though the hotel is no longer in existence, the view is still one of the most spectacular views in the Allegheny Mountains.
From this point you can see 3 states and 7 counties. Anytime you pull along this site you will often meet people with numerous legends and love sharing the Pennsylvania History of the old Ship Hotel. It's a Historic Lincoln Highway icon that will be sadly missed for generations.
In this same area, a little off the beaten path of the Lincoln Highway is a real Pennsylvania phenomenon, also known as one of the hardest Pennsylvania attraction to find. It's called Gravity Hill. Have you ever seen water flow uphill? Try parking your car on the level road and put it in neutral, watch it drift uphill.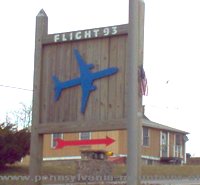 One of our newest Pennsylvania Landmarks is The Flight 93 Memorial . Your journey along this historic trail would not be complete without stopping at this site to pay your respects to the hero's that lost their lives on 9/11. Just look for the sign along Route 30, in Shanksville, PA, in Somerset County.
So much of The Historic Lincoln Highway is being restored, one day many of the famous icons will be back and in operation.
One of these icons is the once famous Jerry O'Mohony Dining Cars. It was once considered the Cadillac of diners. Its new location will be in Ligonier, PA. Also the home of the famous Idlewild Park. You can read about Idlewild Park in the Pennsylvania Amusement Parks.
The Allegheny Mountains will always focused on family attractions. Plan on spending your next U.S. family vacation in the mountains. Breath the fresh air, avoid the hectic interstates, and best of all avoid the rush and expense of the big cities. Take a tour around my website to enjoy many more Pennsylvania Attractions. It's full of surprises!

Leave Historic Lincoln Highway and Return To Pennsylvania Mountains of Attractions Home Page