The Bison Corral
Along the Lincoln Highway
Just wait until you see the Bison Corral while your traveling along the
Historic Lincoln Highway
in Bedford County? You suddenly feel like you just stepped back in history.
The Allegheny Mountains are full of strange and surprising Pennsylvania Attractions. Seeing Bison casually grazing in a field along a U.S. Highway is not only surprising, it's a bit intimidating. It's one of those places you just have to stop and take pictures. We were traveling down the Lincoln Highway to visit the Flight 93 Memorial when we spotted a huge herd of buffalo grazing in a field along the highway. Needless to say, it was a delightful surprise.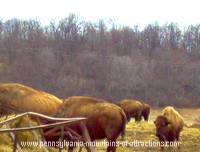 Bison are very powerful animals. Until you experience seeing them in person, then leave your car and stand as close as I was while taking the pictures, you don't realize how intimidating they are.
Beside being powerful, Bison can run 35 mph, they are known to be able to pivot on both their front and back feet, allowing them to be able to turn on a dime. Even though they seem to be docile, they can be unpredictable and have been known to charge at people and at vehicles. Needless to say, I didn't venture too far from the car.
Across the road from the Bison Corral is the Bison Corral Gift Shop. Here you can buy all kinds of bison meat and various Native American gifts, like dream catchers, pottery and jewelry.
Bison meat, also known as buffalo meat, is surprisingly tasty and nutritious. Since they naturally graze in fields they don't need to be injected with hormones or antibiotics. The meat is a lot more lean and healthier than beef. Have you ever tried bison steak or bison fillet? Bison jerky is a popular snack in the Pennsylvania Mountains, especially during hunting and fishing season.
---
Bison or Buffalo?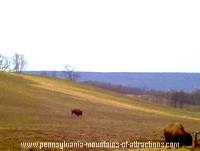 The early settlers called the huge animals buffalo and the name seemed to stick. The old western movies always referred to them as Buffalo and that made the name even more popular.
The bison was actually what made sustaining life possible for the Native American Indians and also the early American settlers. They not only provided a rich food source they also provided shelter and clothing. They were almost hunted into extinction at one time in history but now they are making a big comeback. There are now over 80,000 bison living in herds across North America.
An average male weighs about 2,000 pounds and the female weighs about 1,200 pounds.
Here's a bit of surprising trivia about Bison Because most of their food source is through grazing they have actually cleared out long huge paths over the country and many of these paths are now U.S. highways.
Who would think a bison could be so interesting? American History and many generations have depended on these animals for their survival.
You may also be surprised to know that because of the high protein in the meat you will actually get a lot more nutrition and less fat and calories per serving. Plus, when you eat this type of gourmet meat you will feel full quicker and longer!
While you're on the Historic Lincoln Highway visit the Colonial Jean Bonnet Tavern that is also located in Bedford County.
---
Direction to the Bison Corral
The Bison Corral is also known as Cedarrow's Bison Farm. The small farm started in Juniata County and expanded to about 2 miles west of Historic Schellsburg, in Bedford County, PA. They started raising meat in 1988 with 4 bison and now expanded to meet the needs of the health consumer demands.
Experience history along the Lincoln Highway and stop by the Bison Corral, sample some bison meat, and pickup a few unique historic gifts.
Contact:
The Bison Corral Gift Shop
Route 30
Schellsburg, PA 15559
Phone: (814)733-2323 or (814)733-4908


Return from the Bison Corral to the Historic Lincoln Highway

Return to Pennsylvania Mountains of Attractions Home