"Central Pennsylvania
Festival of the Arts" State College
THE CENTRAL PENNSYLVANIA FESTIVAL OF THE ARTS
Thursday July 10TH TO Sunday July 13TH, 2014
Children's Day Wednesday July 9th, 2014
STATE COLLEGE, PA
Phone: 814-237-3682
DO YOU KNOW OF A PENNSYLVANIA FESTIVAL, FAIR or EVENT?
Suggest a Pennsylvania Festival, Fair or Event Here or Read What other Visitors Wrote


It may be hard to believe that a small community like State College will see over 125,000 visitors over the 4 day celebration of "Central Pennsylvania Festival of the Arts" in July.
During those four days, people will see arts and crafts media for sale, art exhibition and theatrical performances, along with various forms of dance and music entertainment. A wide variety of ethnic foods and drinks are always available. In fact, many of the artist, craftsmen and entertainers are people that travel from all over the United States and even other countries to participate at this popular Pennsylvania festival.
Block after block, tent after tent you'll find beautiful unique arts and crafts for sale. There is something for everyone at every age. Even if you're just there to browse around and take in the sights and sounds, you'll find yourself drifting through downtown State College and interacting in the festivities.
Penn State Festival of the Arts started in 1967. To put the time in prospective Penn State University's beloved football coach Joe Parterno, better known in Pennsylvania as JoePa, was in his second year as head coach of the Penn State Nittany Lions.
The first few years it was called "The Pennsylvania Festival of the Arts" and it was not much more than a sidewalk sale and art display with professional and amateurs artists sometimes selling great works of art. Once you visit this festival you'll see it's come a long way.
---
A Celebration of Art Interaction and
Diverse High Quality of Visual and Performing Arts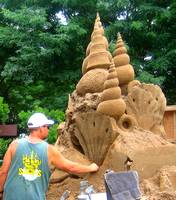 With over 1,000 volunteers on hand to help with the long list of event projects it's no wonder the festival is a success year after year. It seems everything is thought of to make the festival visitors as comfortable and welcome as possible.
You'll be amazed at all the large and small touches that make this Pennsylvania festival so unique. Like the various displays of sand art and Italian street paintings, all done by famous artists. There is even an area the visitors are encouraged to join in and interact with the Italian street art and artists, children can be so creative in this area.
Happy Valley the famous nickname for State College, PA is nestled in Central Pennsylvania in one of the most beautiful valleys in the Allegheny Mountains. Next to the Penn State home football games, The Central Pennsylvania Festival of the Arts brings more excitement to Happy Valley than any other single event.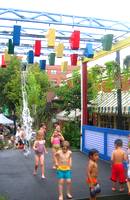 Even though July is the hottest month to visit Central Pennsylvania you can always find a cool shady spot to rest and enjoy this famous Pennsylvania festival. There are even areas with cool misty water sprays located along the festival paths, most are right on the sidewalks, for anybody that can use a quick refreshing cool down. Of course, these are the most popular areas for kids.
The Nittany Valley Running Club holds it's annual race during the Central Pennsylvania Festival of the Arts, featuring 5K and 10K along with kids races.
Best of all, speaking of kids!
---
A Celebration of Kids
Kids Day at the Central Pennsylvania Festival of the Arts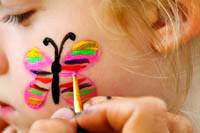 The State College Central Pennsylvania Festival of the Arts opens early on Wednesday mornings to celebrate Kid's Day. How many festivals do you know of that actually sets one whole day aside to celebrate kids? I'm sure this is one of the reasons this Pennsylvania festival is celebrating its 41st year. Children eventually grow up with fond memories of Kids Day that is remembered as something they will want to share with their own kids.
Here is where kids can learn from a variety of interactive schedules designed just for kids. Like, face painting, kids races, kids art, safety from Clifford the Big Red Dog, musical and theatrical shows designed just for kids, science and nature from Penn Sate University and the art of setting up and running their own business.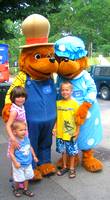 Kids are can be so artistic, just give them a chance to show off their talent. On Kids Day at State College's Central Pennsylvania of the Arts kids not only have a way of showing their talent, they also are given the opportunity to build a business with their very own space to sell their crafts.
This is a day every family should set aside to celebrate the art of growing up in an atmosphere that celebrate kids, the arts and family interaction.
While you're in the area take a drive down the road you'll find another great festival, it called, The Peoples Choice Festival, located in Boalsburg, PA. Here you'll find only Pennsylvania Arts and Crafts artists. It's actually a spin off of the Central Pennsylvania Festival of the Arts. You will also find many areas that are designed just for kids.
Another great festival held in State College every September is The Great Insect Fair. A full day Penn State University sets aside just for kids. It's a PA Science Festival that encourages kids to interact with insects!
CONTACT INFORMATION
Central Pennsylvania Festival of the Arts
403 S. Allen Street, Suite 205A
P.O. Box 1023
State College, PA 16804
Tel: 814-237-3682

Vist Central PA Festival of the Arts Website

Return from State College Central Pennsylvania Festival of the Arts to PA Festival and Annual Events

Return to Pennsylvania Mountains of Attractions Home