PA Science Festival
"The Great Insect Fair"
PA Science Festival-"The Great Insect Fair" at Penn State University
State College, PA
Saturday, September 13th, 2014, 10:00 - 4:00
Bryce Jordan Center
Admission and Parking - FREE!
Ummm! Yummy, Tasty Critters - See You There!
DO YOU KNOW OF A PENNSYLVANIA FESTIVAL, FAIR or EVENT?
Sugget a Pennsylvania Festival, Fair or Event Here or Read What other Vistors Wrote
Bring your family to the annual PA Science Festival at Penn State. It's the "Great Insect Fair" created especially for children. Watch your children learn as they interact with unique and fascinating insects. They'll get a real taste for these little creatures, literally!
Does jumping, crawling, flying insects creep you out? "The Great Insect Fair" will allow you and your children to interact and fall in love with insects from all over the world. It's an experience you and your children will talk about for years to come.
It's a PA attraction only Penn State University can offer as a free interactive science event.
"The Great Insect Fair" where every family member is a kid again.
Some events you'll enjoy.
Insect Olympics
Insect Exhibits
An Insect Petting Zoo
A Bee Hive
Butterfly exhibits
Honey tasting
Science labs
Best Of All An Insect Deli!
Insects Are Important Little Critters
Insects are so much Fun!
The Penn State College of Agricultural Science Entomology Department at Penn State is trying to change the way people think about insects.
Insects are very important and misunderstood. All life's existence is dependent upon them. Once you visit this PA Science Festival you just may think twice before you stomp, whack or spray that creepy critter.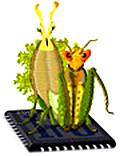 The Great Insect Fair will show your family insects you never knew existed, let alone be able to interact with while you study their structure and the various roles they play in the circle of life. Not only for humans, but all life.
When was the last time you saw an African millipede? Better yet, when was the last time you allowed one to creep up and down your arm? How about a Madagascar hissing cockroach? Have you ever entered one in a race? Watch your children's eyes light up and scream with delight.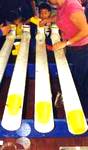 Grab a magnifying glass and watch survival from a bug's prospective.
Watch how Bee's work together as a team to build their hive, fill their cones and produce honey. Do you know that honey's flavors depend on which plants the bees are harvesting their honey from? Have you ever tasted alfalfa honey? It's my favorite! Grab a stick and sample each flavor and pick your favorite.
Do you know that Agricultural Science Entomology Department at PSU has been researching the great mystery of our depleating bee population? This is one of the most important research programs in our lifetime, if you think it isn't, just wait until our crops fail to be pollinated!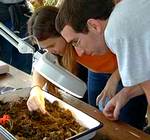 Visitors are amazed at the diversity of insects on display at the Great Insect Fair. It's a wonderful PA Science Festival to kick off the new school year! Many home schoolers make this one of their favorite science projects.
Exactly What Is An Insect Deli?
As gross as it might sound to some people, the Insect Deli is actually one of the most popular stops at the "Great Insect Fair". Are you curious what the menu looks like?
You never know from year to year what will be on the menu but here is a sample of an Insect Deli Menu:
worm stir fry
chocolate covered ants
sandwich roll-ups with different insect slices inside
appetizer-fried grubs on crackers
butter dipped grass hoppers
It's still a typical PA festival . You'll be treated to balloons, face painting, along with souvenirs and keepsakes.
Frozen grasshoppers are always free for the spitting contest!.
Actually, the entire PA Science Festival is FREE! No admission, no parking fee, even the scrumptious deli delights are free, and all you can eat!
---
Direction To Penn State College
"The Great Insect Fair"
Place: Bryce Jordan Center
Time: 10am to 4pm
Admission Price: FREE
Parking Price: FREE
Phone: 814-866-1895

Return from PA Science Festival "The Great Insect Fair" to PA Festivals and Annual Events

Return to Pennsylvania Mountains of Attractions Home