Ghosts of Catholic Saints at
"All Saint and Souls Tour
by Candlelight"
DO YOU KNOW OF A PENNSYLVANIA FESTIVAL, FAIR or EVENT?
Suggest a Pennsylvania Festival, Fair or Event Here or Read What other Visitors Wrote

6
October 26th & 27th, 2012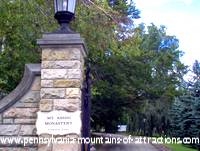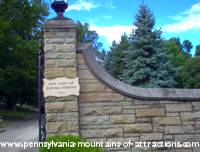 Explore a very unusual PA Fall Festival. It's called the "All Saints and Souls Tour by Candlelight." Here is your opportunity to interact with ghosts of Catholic Saints. The years traditional annual event is held the last weekend in October, Friday and Saturday.
The community of Lorreto, PA celebrates Halloween and All Saints and Souls Day in the Allegheny Mountains. It's a PA Festival celebration your family will soon adopt as a family tradition.
In the tradition of Halloween, volunteers from the community will dress in customs of their favorite saint. They will play the part of different Catholic saints that appear through the tour as ghosts. Each saint will give the history of their life and the reason they are now known as a saint by the Catholic community.
It's a PA Fall Festival that is a bit out of the ordinary as a Halloween celebration.


---
Take A Moonlight Walk With
A Russian Prince - Father Gallitzin
Take a moonlight walk into the Allegheny Mountains forest with"Servant of God" Father Gallitzin.
The "All Saints And Souls Tour", a well known famly attraction, will educate your family with the histoy of Father Demetrius Autustine Gallitzin who died May 6th, 1840, of a double hernia.
On the tour you will see Father Gallitzin's Tomb, and the site where he built his Catholic colony in 1799.
There is an old tradition called "Miracle Plays" where people would reenact the heroic lives of their favorite Catholic Saints. Although this tradition has sadly died out throughout the centuries, Loretto, Pennsylvania, has proudly kept it alive in this unusual PA Fall Festival.
---
Interact With The Ghosts Of Catholic Saints
The Pennsylvania "All Saints and Souls Tour by Candlelight" provides family entertainment that will soon become your own family PA Fall Festival tradition every Halloween.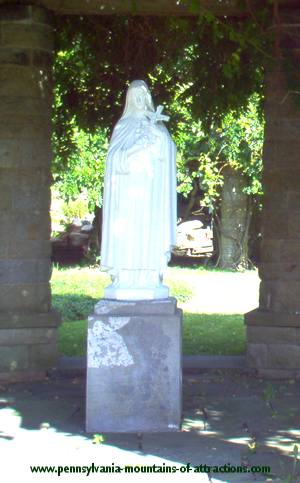 The community of Loretto, Pennsylvania will give you the opportunity to interact with the ghost of Catholic Saints like; Saint Maria Goretti. Who died in the year 1902. She is a martyr who was stabbed 14 times by a young man who tried to sin with her. Her last words before her death were, "Yes, I forgive him for the love of Jesus...and I want him to be with me in heaven. May God forgive him!" She is now the patron Saint of chasitity and purity in the lives of young people.
The experience of this tour is unique in so many ways. You will not only learn the history behind the many saints in the Catholic religion, you will also make memories with your family to talk about every Halloween. A memory your children will tell their children and grandchildren about.
Bring your family to the Allegheny Mountains and enjoy a unique PA festival.
---
A Halloween Experience
You Won't Want To Miss
The Allegheny Mountains "All Saints and Souls Tour by Candlelight" times starting at 6:30pm, and leave every 15 minutes. The last tour leaving at 10:30pm, unless it's a Sunday and the last tour will leave at 9:30pm.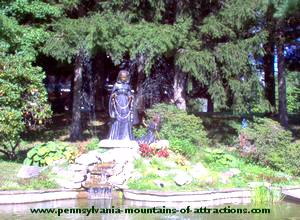 PLEASE NOTE! This PA Fall Festival Tour is not recommended for children under 8 years old. The reenactments of the martyred saints may be too dramatic for younger children.
There will be excessive walking outdoors, please dress accordingly.
Please feel free to bring a flashlight to help with walking. Those who have trouble walking or seeing may want to take an earlier tour that has more light.
There will be food for sale before and after tours so bring your appetites.
There will be t-shirts for sale. The Allegheny Mountains "All Saints And Souls Tour by Candlelight" proceeds go to area ministries.


---
Ticket Information
Ticket Information
$7.00/person
All tours are filled on a first come, first served basis. Your tour time will be assigned upon arrival, based on availability. There may, therefore, be a wait required if tours are full.
Group tours of 20 or more can reserve a tour time in order to get a special group price. Groups of more than 25 may need to be split into more than one tour group. Pre-payment (non-refundable) will be required to reserve a time and receive a special rate. For group reservations, please call Marie Link at 814-886-4109 or e-mail: marielink@verizon.net
Ticket proceeds are donated to local organizations such as the SFU Dorothy Day Center, the St. Vincent De Paul Society or Catholic Charities
For additional information go to: http://www.basilica-loretto.org/saintstour.htm
---

Leave PA Fall Festival " All Saints and Souls Tour" and Return To PA Festivals and Annual Events

Return To Pennsylvania Mountains of Attractions Home