Johnstown's "Thunder in the Valley"
Motorcycle Rally
Johnstown's "Thunder in the Valley" Biker Rally
June 26th to 29th, 2014
Shift Happens at this Annual Event!
DO YOU KNOW OF A PENNSYLVANIA FESTIVAL, FAIR or EVENT?
Suggest a Pennsylvania Festival, Fair or Event Here or Read What other Visitors Wrote


Roar your engines and get ready for Thunder in the Valley Motorcycle Rally Celebration. It's an annual Pennsylvania Event held in June when the weather in PA is perfect for roaring those engines through the Allegheny Mountains.
The annual "Thunder in the Valley" has helped to create a new identity for Johnstown, PA. While celebrating this lively event it's hard to think about this Pennsylvania community as being recognized for it rich history of tragic floods and devastating lose.
History buffs still travel to this area throughout the year to explore the rich heritage, but make no mistake about it, during this weekend in June, Johnstown turns into a biker town like no other.
Thunder in the Valley attracts a crowd of more than 160,000 over the four official days of this popular Pennsylvania event.
Historic downtown Johnstown serves as the perfect setting for the hub of the "Biker Rally". You'll find something for everyone, from food vendors, demo rides, manufacturer displays, pubs, live music, to kids activities. It's a Pennsylvania festival unlike any in the area.
The Allegheny Mountains come alive over the four-day weekend as bikers travel through the Pennsylvania Mountains to attend "Thunder in the Valley" event. As far as the eye can see bikers arrive in downtown Johnstown from every road leading into the city.
Besides the entire city of Johnstown rolling out the red carpet for bikers, you'll find that even the cities and businesses on the outskirts of town make a special effort this weekend to offer special prices and events to keep everybody at every age feel welcomed and entertained.
travel on poker runs
hill climbs
bike contests
ugly biker contest
mud wrestling
pudding wrestling
wet t-shirt contest
live music
children activities
along with many other activities, events and entertainment
You'll also find self-guided motorcycle tours that link the region's historic attractions, via scenic roads have been developed to encourage bikers to visit the area all year long.
You'll be amazed as you travel through the Allegheny Mountains at the scenery, roadside attractions, pit stops, and friendly hospitality.
---
"Thunder in the Valley"
Biker Rally Events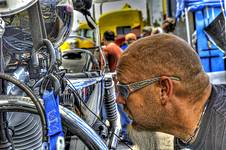 Bikers can be assured that every "Thunder in the Valley" event is an historic, significant and special Pennsylvania event.
Once you attend events like this you quickly make friends and plan on meeting year after year. That's what Pennsylvania is all about!
While you're in the area why not visit some of Johnstown's historic sites like:
The biggest "Thunder in the Valley" event is the "Grand Thunder Parade" always held at noon on Saturday. Bikers are invited to roar their engines and show off their bikes through downtown Johnstown.
Food Booths, Outdoor Pubs & Vendors
Stuff yourself with hot sausage, steak sandwiches, and ethnic fare, wash it down with a cold drink, and shop for all the leather and bike accessories you need at multiple downtown locations!
Free Live Music
Enjoy jazz, blues, country, rock, pop, oldies, and acoustic bands on stages throughout the downtown!
Bar/Tavern Events
Compete in wet t-shirt contests, pudding wrestling, tattoo contests, ugly biker contests, while you enjoy live bands scattered through the city. And don't forget all the wonderful food and drink specials!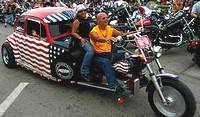 Be prepared to expect the unexpected on the streets of downtown Johnstown during the "Thunder in the Valley" event. It's all about wild and crazy days while being encouraged to forget the world outside and leave your troubles behind while you enjoy this popular event.
You'll find lots of hotels, bed and breakfasts, and nearby Pennsylvania State Parks to camp for the weekend. So come prepared to spend the entire weekend or if time is limited you can just spend the day. But I have to warn you, you're going to wish you made reservations.

Return from "Thunder in the Valley" to PA Festival and Annual Events

Return to Pennsylvania Mounains of Attractions Home