Seven Springs Resort during
"Autumnfest"
Seven Springs Resort Autumnfest
Every Weekend in October!
Located in Champion, PA, Somerset County
See You There!
DO YOU KNOW OF A PENNSYLVANIA FESTIVAL, FAIR or EVENT?
Suggest a Pennsylvania Festival, Fair or Event Here or Read What other Visitors Wrote


During "Autumnfest" located at Seven Springs Resort, you can choose from 4 weekends in October to enjoy an old fashioned PA Festival. Visitors can enjoy handmade crafts, fantastic food, family entertainment all at a beautiful PA Ski Resort. It's a PA craft show like no other.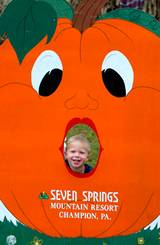 I can't imagine anyplace in the world more beautiful during October than the Pennsylvania Mountains. With Fall Foliage colors at their peak, along with crisp and clean mountain air, temperatures cooling off (but usually not cold enough for snow), anything you can do outdoors makes you feel connected with your heritage.
Fall is an exciting time to visit Seven Springs Resort "Autumnfest" to relax and enjoy the Pennsylvania Allegheny Mountains.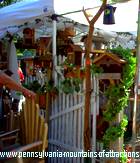 Rain or shine "Autumnfest" can be enjoyed at this beautiful Pennsylvania Mountain Resort.. With inside and outside craft booths, outdoor entertainment throughout the day, home baked breads and pastries, you'll find every nook and cranny filled with surprises.
Who dosen't love a Family Circus? In 2006 The Zany Umbrella Circus was at Seven Springs Resort's PA Festival. It was such a wonderful success they will probably be there year after year to entertain at the Seven Springs Resort "Autumnfest". How about a live concert outdoor? Do you still swoon at the sounds of Frank Sinatra? Do you love country and western? Each weekend you'll enjoy an exciting outdoor concerts.
Believe me, this is a weekend you'll want to experience year after year. It has been a Favorite Weekend Getaway for my family for the past 10 years!
---
Seven Spring Resort Autumnfest
In The Allegheny Mountains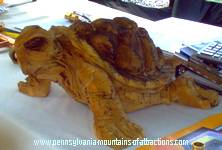 From the time you arrive at Seven Springs Resort "Autumnfest" you'll be treated like royalty. You can choose to stay at the hotel, or get a luxury private lodge. There are package deals that will include a fabulous dinner. My favorite meal at Seven Springs Resort is their fabulous breakfast buffet. There is nothing left to be desired, you won't walk away hungry.
With so many handmade crafts, artists, and shops inside the resort you'll enjoy a full weekend of wondering from one area to another and enjoying a huge PA craft show. You'll see beautiful paintings, sculptures, and sketches. Enjoy the rare treat of watching these crafters spin their crafts into a work of art at this Annual PA Festival.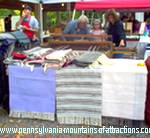 Whenever you need a break from the Seven Springs Resort "Autumnfest" celebration you can always take a ride up the mountain on the ski lift. The view will take your breath away. The slow climb up the ski slope while seeing the treetops pass under your feet is a bit intimidating. But coming down will put you into a hypnotic trance. You'll see miles and miles of beautiful Pennsylvania Mountain ranges. The tallest mountain at the resort is nearly 3200 feet in elevation, much taller than the other mountains that are 2000-2600 feet in elevation, and not too far away is Mount Davis, at 3213 feet in elevation, it's the tallest mountain in Pennsylvania.
If you're feeling really brave you can always take the Alpine Slide. It's a dry double track slide that is built directly into the side of the mountain. You'll enjoy 1,980 feet of downhill thrills. Kids and adults love to ride on the slide over and over.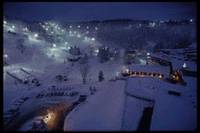 There's also Horseback Riding, Roller Skating, a Bowling Alley, and a Game Room. I can't imagine anybody getting bored at Seven Springs Resort, it's a real treat for every family member.
I hope you decide to spend your October at Seven Springs Restort Autumnfest in the Pennsylvania Mountains. While you're in the area take a ride a few miles down the rode and visit The Flight 93 Memorial . .
Travel along the scenic Historic Lincoln Highway and soak in the many Roadside Attractions. Have you ever seen a Buffalo Ranch? Stop at the old site of the Ship Hotel, the hotel burnt to the ground a few years ago but from the site you'll see 7 counties and 3 states! Whatever you do, don't forget your camera that weekend.
---
Directions To Seven Springs Resort
Within Easy Reach Seven Springs is located approximately one hour's drive southeast of Pittsburgh, PA. It is easily accessible off exits 91 or 110 of the Pennsylvania Turnpike. Pittsburgh International Airport is the nearest metropolitan terminal. Pickup from this airport is available by prior arrangement. Exit #91, Donegal Turn left off the exit ramp (Routes #711 and 31); approximately 2 miles, turn right on Route #711; follow 711 for about 2 miles; at the Star Market in Champion, turn left; follow the signs to Seven Springs (approximately 8 miles) on the right.
Exit #110, Somerset Turn right off the exit ramp at the second light; at the third traffic light turn right (Route #31, West); follow 31 West approximately 7 miles; turn left at Pioneer Park; follow that road approximately 4 miles; at the first stop sign, turn right. Seven Springs will be 5 miles ahead on the left.
Phone #: 866-703-7625
Please mention you found the information about Seven Springs Resort and PA Festival Autmnfest on Pennsylvania-Mountains-of-Attractions.com website.

Return from Seven Springs Resort Autumnfest to PA Festivals and Annual Events

Return to Pennsylvania Mountains of Attractions Home