A Unique New Year's Eve Celebration
State College, PA's "First Night"
DO YOU KNOW OF A PENNSYLVANIA FESTIVAL, FAIR or EVENT?
Suggest a Pennsylvania Festival, Fair or Event Here or Read What other Vistors Wrote


Treat your family to a unique New Year's Eve Celebration this year and enjoy "First Night" in State College, PA. It's a Pennsylvania Winter Festival that allows you to burn last New Year's Resolutions, and other regrets you'd like to leave behind. It's a great tradition to start a new year. It's no wonder State College, PA is also known as Happy Valley!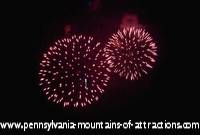 There is nothing like starting your New Year Celebration with your family, loved ones, and community at your side.
Travel through the Pennsylvania Mountains and discover a world of beautiful artistic ice sculptures, family winter games, music in the streets, and a fantastic fireworks display at midnight.
A 12 Hour New Year's Eve Celebration
Enjoy family activities like:
Fire Sculptures - everybody is receives a wooden piece to write their last year's resolution and throw into the fire sculpture.
First Bells- is a sculpture made of old bells, gongs, and cymbals to ring in the New Year!
The Burning ManHe collects our wishes, regrets, and resolutions we didn't keep. At 11:15 pm The Burning Man will be ignited and burn from wood and fabric to charcoal. The tradition is to dispose of all our loose ends from the past year.
The Tent of LightOnce in the "Tent of Light" you will experience the an "friendly oasis from the dark cold winter landscape" and enjoy a series of lights, interactive sculptures and special effects.
You can enjoy Decorating a Bisque Mug that you will enjoy for many years to come remembering your special New Year's Eve Celebration in Pennsylvania. After decorating your mug you will leave it there to be fired and sent to you a few days later.
All this and so much more and the admission cost is only $6.00 per person.
Travel through the Pennsylvania Mountains and enjoy bringing your family to this unique New Year's Eve Celebration. Where else can you spend New Year's Eve outdoors? Watch the Allegheny Mountains light up with the magic of a Pennsylvania Winter Festival.

Leave New Year's Eve Celebration and Return to PA Festival and Events

Return to Pennsylvania Mountains of Attractions Home