Apple Cider Festival
At Prince Gallitzin State Park at Glendale Lake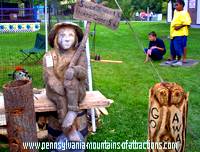 Apple Cider Festival at Prince Gallitzin State Park
October 5th, 2014 from 10 AM to 5 PM
Admission and Parking FREE!
Muskrat Bearch Area - See You There!

To Contact Prince Gallitzin Stare Park
Call: 814-674-1000
DO YOU KNOW OF A PENNSYLVANIA FESTIVAL, FAIR or EVENT?
Suggest a Pennsylvania Festival here or Read What other Visitors Wrote

When you combine Prince Gallitzin State Park with an Old Fashioned Apple Cider Festival, PA Craft Show, hayrides and Glendale Lake, Pennsylvania family attractions just don't get any better than this. Always held the first Sunday in October
Have you ever experienced the taste of fresh apple cider or freshly made apple butter? Even if you have you've probably never smelled it cooking out in the open air. It's a treat to all your senses. Even though a PA Festival like this is all about the apple cider and the apple butter there is still so much more to enjoy.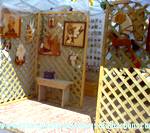 The one rule I love about the crafts at the Apple Cider PA Festival is that any crafts that are being sold must be handmade. It's an artistic event that inspires artists from all over the Allegheny Mountains to join in and offer their handmade art.
---
A Beautiful Fall Celebration in the
Pennsylvania Mountains at Glendale Lake

You really never know what you're going to find at a PA Festival like this. It's also a great time to get some of your holiday shopping done. You'll not only get a head start on your shopping list, you'll also find some unique, one of a kind, gifts. Most importantly, you'll be supporting the local artists, the community, and future annual events in Pennsylvania.
Within 7 short hours a nice variety of entertainment for the entire family is planned.
children can enjoy pony rides!
Ray Owens will be presenting a children's program: Davy Crockett and Danial Boone
The Shaver's Creek Environmental Program will present: "Bird of Prey"
And Jack Hubley will present Snakes: "Venomous or Not?"
Enjoy an old fashioned hayride.
Make sure you arrive hungry. There will be over 20 food vendors just waiting to serve you their specialty foods.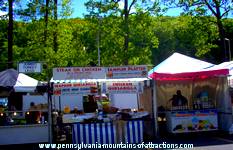 Spend your weekend outdoors in the Pennsylvania Mountains. Prince Gallitzin State Park at Glendale Lake is one of the most beautiful places to enjoy the Fall Foliage and the wonders of nature and PA wildlife. For heavens sake, how many weekends are left before we have the Winter Season upon us?
CONTACT INFORMATION
Prince Gallitzin State Park
966 Marina Road
Patton, PA 16668-6317
814-674-1000
Manager: Dennis Miller

E-mail: princegallitzinsp@state.pa.us



Return from Prince Gallitzin State Park's Apple Cider PA Festival to Pennsylvania Festivals and Annual Events

Return to Pennsylvania Mountains of Attractions Home