"The Festival at Lakemont Park"
Lakemont Park's Annual Fall Festival
The Festival at Lakemont Park
Saturday,September 6th, & Sunday September 7th, 2014
Lakemont Park, Altoona, PA
See You There!
Yes, the name has changed again but the annual festival promises to be as great as it always has over the years! Personally, I'd love to see it return to its original name "The Keystone Country Festival"!
DO YOU KNOW OF A PENNSYLVANIA FESTIVAL, FAIR or EVENT?
Suggest a Pennsylvania Festival, Fair or Event Here or Read What other Visitors Wrote


Enjoy one of the biggest Blair County, PA Fall Festivals, "The Festival at Lakemont Park" is celebrated at Lakemont Park , in Altoona, PA.
You'll be amazed at the abundance of handmade crafts, wine tasting, chainsaw sculptures, ethnic foods, and various music events. It's a Pennsylvania Craft Show you will want to attend year after year.
This annual event is held every September, the weekend after Labor Day, rain or shine.


Chainsaw sculptures show off their artistic talent at Lakemont Park's "The Festival at Lakemont Park"


"The Festival at Lakemont Park" is well known as the "Keystone Country Festival". That was until 2005 when the Blair County Convention Center took this annual event over and moved it indoors.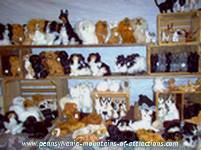 The Blair County community was outraged and protested this decision. Lakemont Park was as upset as the community and to remedy this decision they decided to start another Central PA Festival and call it, "Altoona First Festival" until 2013 and changed the name again to "The Festival at Lakemont Park". It was a gamble for Lakemont Park, the many craft, wine, and food vendors, and all the faithful organizations that sponsored the event. The gamble paid off!
Lakemont Parks, "Altoona First Festival", had a record attendance in 2005 and year after year the festival just keeps getting bigger and better. It was a win-win situation for everybody.
The Blair County Convention Center announced that they will not be holding a Keystone Country Festival in 2007 due to lack of interest and attendance. As of 2009 there have been no announcements of reopening.
Of course, you can still enjoy "The Festival at Lakemont Park" still held in the beautiful outdoors rain or shine. I can't think of a better way to enjoy our beautiful fall weather in Central Pennsylvania.
---
Arts and Crafts Venders Display Their Talents
Enjoy A Pennsylvania Craft Show "Altoona First Festival"
The hardest part of attending this beautiful annual Fall PA Festival is deciding which direction to go first. No matter what time you get there it never seems like there's enough time to soak in all the fantastic crafts, food and entertainment. If time allow I'd suggest you spend both days that weekend at this enchanting PA Amusement Park, it's the last weekend Lakemont Park will be open for the season.
The Amusement Park Rides and Miniature Golf are always available and included in the $5.00 Admission. Parking is always free!.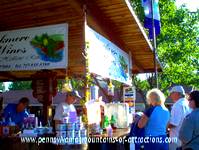 As you can see there are homemade crafts, foods, and entertainment for everybody. You'll spend much of your time watching the craft artists at work, from making stuffed toys to listening to Native American Music accompanied by the artist playing a variety of Indian flutes.
My favorite, most eye catching event, is watching the Chainsaw Artists sculpture varies works of art.
You'll find Food Booths of every kind. Communities from Church's, Schools, and various Organizations volunteer their time and Ethnic Recipes to make Ethnic meals and snacks that are hard to resist. You'll also find plenty of picnic tables and benches to relax, enjoy your meal and listen to local bands preform.
I have to admit, my favorite booth at the Fall Central PA Festival, "The Festival at Lakemont Park", is the Wine Booth. Have you ever tasted a Wine Slushy? Oh my goodness, it is so good! I usually sip on several slushy's while making my rounds through the PA Craft Show. Shhh! I pretend it's pink lemonade.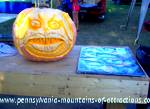 It's always fascinating to watch the many artists at work. I tend to favor the chainsaw sculptures and the pumpkin carving. It's fascinating to watch anybody hold on to a heavy chainsaw and carve such fine detail into their work of art.
How can anybody resist a beautiful Fall Weekend at a Central PA Festival in the great outdoors surrounded by handmade crafts, great food, music, and artists at work? To top the weekend off, Saturday evening you can always enjoy a Fireworks Display!
It's a Pennsylvania Craft Show that you'll brag about attending, these are the kind of memories your family and friends will want to enjoy building year after year.
---
Directions To Lakemont Park
"The Festival at Lakemont Park"
From I-99 Take Frankstown Road Exit. Lakemont Park is located at exit.
From Pittsburgh Take U.S. 22 East. Merge onto I-99/U.S. 220 North approximately six miles from Altoona. Take Frankstown Road Exit. The Park is located at exit
From PA Turnpike Take Bedford Exit. Go North on I-99 approximately 40 miles. Take Frankstown Road Exit.
From I-80 Take Milesburg Exit. Go South on Rt. 220/I-99 approximately 75 miles. The Pennsylvania Amusement Park is located at Frankstown Exit.

Return from "The Festival at Lakemont Park" To PA Festivals and Annual Events

Return to Pennsylvania Mountains of Attractions Home