Enjoy DelGrosso Park's Annual
"Italian Food and Heritage Festival"
DelGrosso Park's "Italian Food and Heritage Festival"
Sunday September 21st, 2014 - See You There!
The "Italian Food and Heritage Festival" at DelGrosso Amusement Park is a full day of great food, music, and Italian heritage celebration. Families throughout the Allegheny Mountains look forward to this one day celebration to enjoy a day of their favorite Italian food and heritage traditions.
Every September, one Sunday is set aside at this PA Amusement Park for the many Central Pennsylvania clubs and organizations to show off their specialties. It is well known as one of the famous Annual PA Italian Heritage Festivals in the Pennsylvania.
This annual event is one of the few PA Festivals and Annual Events celebrating the Italian Heritage though the Allegheny Mountains.
The variety of Italian food is endless. Which makes it difficult to choose what to sample next. One thing I can promise you, everything is fresh, homemade and delicious.
Unless you live near a Little Italy you would never be able to enjoy so much homemade Italian Food and authentic Italian Music in one area, in one day.
---
From Italian Wedding Soup
To Italian Pasta, Bread and Pasteries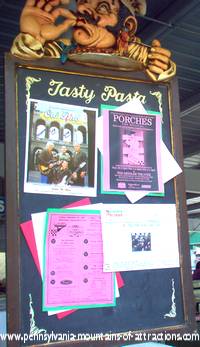 With so much Italian food to choose from you will find yourself grateful for the take out boxes at this annual PA Italian Food and Heritage Festival.
I usually start with the homemade Italian Wedding Soup or maybe a nice hot bowl of Pasta Fagioli (macaroni and beans). From there I move on to the pasta, salad, and bread. If the pasta seems a bit too filling you can always get a hot or sweet Italian Sausage or Meatball Sandwich. The menu is endless. But I'm warning you, come early, the favorite Italian dishes tend to sell out early.
The Italian Pastries are homemade by the many women that are members of the PA Italian Heritage Clubs and organizations.
Knowing that most of the people will be way too well fed to want a dessert they prepackage the Italian pastries to take along home. You'll even find a booth loaded with specialty Italian bread from Pacifio Bakery located in Altoona, PA. After all, what's an Italian Heritage Festival without fresh authentic Italian bread?
---
DO YOU KNOW OF A PENNSYLVANIA FESTIVAL, FAIR or EVENT?
Suggest a Pennsylvania Festival, Fair or Event Here or Read What other Vistors Wrote
---
A Day Of Good Food, Music And Friendship
That's Italian!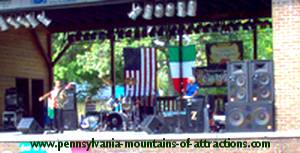 Even though the authentic Italian food is what entices the public to visit DelGrosso Amusement Park during their Italian Heritage Festival, it's actually the atmosphere, fellowship, and good music that keeps families there throughout the day and coming back year after year.
The children can enjoy the Amusement Park Rides while the adults gather around the picnic tables and relax and listen to the concert of Italian Music.
It's a day of laughter, good food, and fellowship that brings the community together year after year. You will never feel like a stranger when you attend any of the many Pennsylvania Festivals. The communities always do all they can to make you feel welcome and part of the festivities.
By the way, you don't have to be of Italian heritage to attend this "Italian Food and Heritage Festival". It is always a wonderful way to enjoy a beautiful fall day outdoors with your family.
There are a wide variety of Pennsylvania Amusement Parks throughout the Allegheny Mountains.
Visit Lakemont Park and take a ride on the Worlds Oldest Roller Coaster still in operation.
Spend a week in the Allegheny Mountains and go camping or rent a beautiful cabin at Knoebels Amusement Park , known as one of the most beautiful Amusement Parks in the United States!
And don't forget, DelGrosso Amusement Park has a beautiful Award Winning Antique Carousel.

Visit DelGrosso Parks Website

Return from "Italian Food and Heritage Festival" to PA Festivals and Annual Events

Return To Pennsylvania Mountains of Attractions Home