Gates of Hell
by Brooke
(Uniontown, Pennsylvania)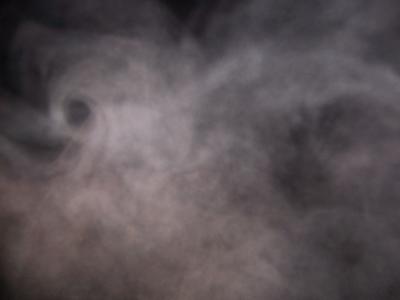 The 2 faces captured @ The Gates of Hell (one on the left is easy to see, but the one on the right is a little more hidden)
I am an avid amateur ghost hunter from the Uniontown Area. While researching haunted places in my area, I found a link to a site that told about "The Gates of Hell" which coincidentally is right near my house. The Gates of Hell are located on Tent Church Road right between Uniontown and Fairchance Pennsylvania. The supposed story of why this place is haunted is there was a couple that resided there, and one day the husband went crazy, killed his wife, set the house on fire, and then took his own life. Many reports have been that of the 2 main spirits living there, one spirit is content being there, but the other spirit is very angry. I decided to check it out with some friends. We went on October 13th, 2007 to see what we could find. We started out at the actual blue gates that guard the pathway to the original foundation of the house. We snapped a couple pictures and talked to the spirits there and eventually started getting orbs (balls of energy) floating above us. We decided to hop the fence (there are no trespassing signs posted...but, hey, we're rebels. haha.). We walked the short pathway to the foundation of the house and started to feel very unwelcome and cold. I moved closer to the foundation while my friends stayed behind. I began snapping pictures near the foundation and got a few orbs and ecto-mists...but then snapped one more picture and captured 2 faces in some ecto-mist. One face looked like it was smiling and one looked very mean.


All in all, my conclusion that this place IS haunted. It was very apparent that we were standing among some heavy vibes....good and bad. I would suggest to anyone NOT to go there alone @ night. If there is any questions that anyone has about this location...feel free to contact me @ bsheree21@yahoo.com OR AIM: dreamsinger60.


Sweet Peace and Happy Hunting!