Mudlick Hollow
by Heather
(Beaver, PA)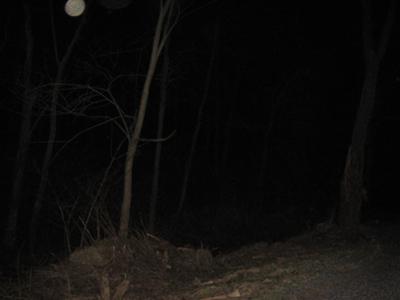 You can see the bright white orb in the upper left hand corner. I took another picture after this and it was gone. Just so you know it was a very cloudy evening THIS IS NOT THE MOON!
My friends and I decided to do a night of paranormal investigating, our evening began at Gretchens Lock in Ohio after being there we went on to Mudlick Hollow in Brighton Township. We first drove all the way up the road and then back down.

We heard of a tale of a newlywed couple running their horse and buggy off the side of the road due to a small animal. We were unsure of where exactly this took place so we started taking photos. Finally half way down the road I saw a possum in about eight feet of area ahead of where it was where we got continous photos of orbs in an area where there was a steep ledge that led to the creek. We are confident that this is where the crash took place. Continuing down the road we kept snapping photos but were unable to get any activity.