two pics here
by Otto Bumberger
(Hollidaysburg, PA)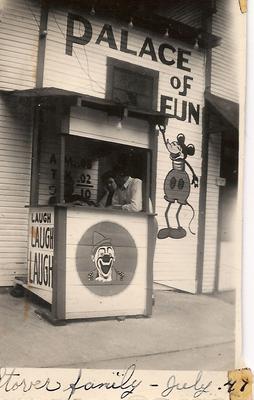 Old Lakemont Park Fun House 1947
The first picture is of the Lakemont Park Fun House taken in 1947.
The 2nd picture was taken 1951 in the alley behind the Day Care We Care center along 220 (Pleasant Valley Blvd, between 10th and 12th Streets). That's my Dad leaning against his car.(Notice the skull & crossbones license plate - it's an Ohio plate because that's where he went to work). The daycare center is on the same spot my grandmother's house stood. I WISH it hadn't been torn down!
Join in and write your own page! It's easy to do. How? Simply click here to return to Share Your Pennsylvania Pictures.