National Alpaca Farm Days at Terrace Mountain Alpacas - September 25 & 26, 2010
by Sandy Baker
(Huntingdon, PA)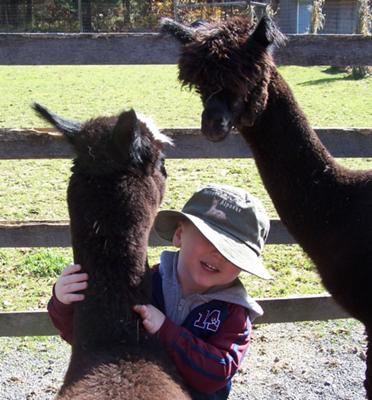 Andrew, Apache Moon & Autumn
Terrace Mountain Alpacas invites visitors to greet and meet, our alpacas. Come visit with these gentle animals and listen to them hum. Maybe you are thinking about raising alpacas, we can help you get started.

Stop by for National Alpaca Farm Days on Sept. 25 and 26 from 10A-4P, both days. If you can't make it those days, please call for an appointment.

We love showing off our alpacas and just talking about each one. Great prices and bloodlines for sale everyday.

We are located in Huntingdon CO., 40 minutes from PA Turnpike, 45 minutes from State College, Altoona and Lewistown. We are located next to Lake Raystown, across the lake from 7 Points, as the crow flies.

Be sure to visit our Alpaca Farm Store with many new products this year. TMA Farm Store is open all year and we ship all over the USA. Visit our website at: terracemountainalpacas.com or call 814-643-2854 for more info.

Babies due in Sept. for National Alpaca Farm Days. We also invite guest for our annual Terrace Mountain Alpaca Open House, first full weekend in November each year, this year - November 6th & 7th, 10A-4P both days. Always free.....never any charges for visiting the farm. So come visit our huggable investment, today.