Incline Memories
by Cindy
(Albuquerque New Mexcio)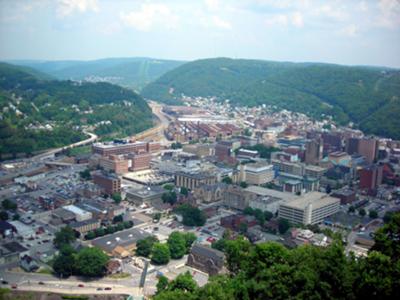 Johnstown area 2010
Recently, I visited the town of my father's birth...Johnstown PA. Sadly,he passed away in January 2010 at the age of 86.

My childhood is filled with so many Johnstown memories;freshly baked cookies and pies, fireflies in the summer skies and of course, a ride on the Incline!

I took several photos down the the Incline this past summer, and then upon my return home to Albuquerque NM, I realized that I had some old photos from the 1950's 60's of the greater Johnstown area which were taken from atop the Incline! So, here you go...ready for the ride? .....I would like to share the J'town beauty, clean and smoggy! Still my Johnstown! My lovely Johnstown. Good to see that it has cleaned up the act.

Notice a difference between the two photos--- decades apart....(the smoke stacks in the background), and the clarity of clean air in the same background today.

Our parents drove the family up and through old Route 66 to my father's hometown every summer in the 50's and 60's-- until my beloved grandmother passed away in 1968.