The Huntingdon County Fair
Began in 1831
Huntingdon County Fair
August 9th - August 15th, 2015
10455 Huntingdon Fairgrounds
Huntingdon, PA
PHONE: 814-643-4452
DO YOU KNOW OF A PENNSYLVANIA FESTIVAL, FAIR or EVENT?
Suggest a Pennsylvania Festival, Fair or Event Here or Read What other Visitors Suggested
Join the community of Huntingdon, Pennsylvania in celebrating their annual County Fair since 1831. Take a tour of the largest agriculture fair in Pennsylvania and antique farm museum. Of course you'll still enjoy the exciting rides, entertainment and food.
The first Huntingdon County Fair was held in 1831. Being an agriculture community, most homes depended on agriculture for their livelihood so it was appropriate for them to meet and share their wisdom, friendship and fellowship and share their accomplishments at the fair. The fair has since come a long way from being an appropriate meeting place for farmers, it has grown into not only the largest agriculture county fair but also a nice festival with exciting grandstand shows, rides, games and favorite foods.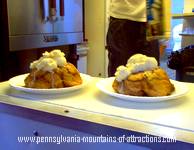 Speaking of favorite county fair food. Check out the photo of hot monkey bread with ice cream! This was one of my family's favorite treats at The Huntingdon County Fair in 2006 and every year since! It's baked fresh right before you eyes, loaded with brown sugar and cinnamon and topped with vanilla ice cream. Yum! Um, I'm getting hungry for it just looking at the picture I took right before eating it.
---
Tour A Farm and Antique Museum
At The Huntingdon County Fair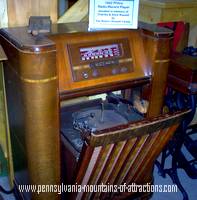 Imagine taking a tour of a barn full of farm machinery, antiques, and classic antique cars. That's what you'll see when you venture into the farm museum at the Huntingdon County Fair. From old corn planters and huskers to Model A Fords are on display in this unique museum.
I think we spent more time in the museum than anywhere at this county fair. There's so much to see in every nook and cranny. I have to admit my favorite antique was the old wooden bathtub. Looking at the antique 1942 Philco radio and record player brought back memories of my childhood and listening to old radio shows before we could afford a TV. This is not only a museum of farm equipment and antique cars and furniture it's a place that will allow you to step back in time.
There's nothing more exciting than attending an old fashioned county fair. There's always something going on that will educate and entertain every family member. Ride the rides and join the fun at the grandstand. The Huntingdon County Fair is large enough to keep you strolling around all day yet small enough to make your family feel right at home.
Directions and Information
Hours of Operation for the Fair Grounds Open Daily - 8:00 A.M. - 11:00 P.M. (Fair week) Exhibit Halls and Farm Museum Open Daily - 11:00 A.M. - 11:00 P.M. (except as noted on daily schedule Dates
Opens at 8:30 am to 11:00 pm
10455 Huntingdon Fairgrounds
Huntingdon, PA
PHONE: 814-643-4452
NOTICE!: Pennsylvania Mountains of Attractions is not responsible for any of the sites we post on this website. We are reporting the sites and information for entertainment purposes only. We are not legally responsible for any opinions expressed by the sites we mention. All material is as accurate as possible, but we do caution visitors to the site to contact sites that they may want to visit for further information, price changes, updates or cancellations.




Return from Huntingdon County Fair to Pennsylvania Fairs

Return to Pennsylvania Mountains of Attractions Home