Go Wild in the Pennsylvania Wilds
At the Clearfield County Fair
THE 153rd Clearfield County Fair
August 3rd - August 8th, 2015
Tickets: 814-765-1749
DO YOU KNOW OF A PENNSYLVANIA FESTIVAL, FAIR or EVENT?
Suggest a Pennsylvania Festival, Fair or Event Here or Read What other Visitors Wrote
It's no wonder the Clearfield Fair is enjoying over 150 year tradition, especially since it one of the largest in the state, Grange exhibits, animals, rides, national acts, food, thrills and more.
For many years the Clearfield County Fair has been the only place in central Pennsylvania to see great entertainers perform in front of the grandstand from Bob Hope to Garth Brooks and continues to bring big name entertainers.
The county fair actually began in 1852. It all began as an agriculture and industrial fair. Through the years this Pennsylvania Fair saw its ups and downs. Due to the crash of the stock market and economic hardships the fair was suspended in 1935. Then again in 1944 and 1945 the fair was again put on hold because of WWII and many of its and many of the residents going off to war.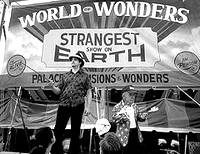 You never really know from year to year what you're going to experience at the County Fair. From the midway exhibits to the Grange exhibits every family member is entertained and excited to see one event after another.
Everybody feels like a farmer as you stroll through the many agriculture exhibits and livestock. See homemade pies, cakes, home canning and the best looking vegetables Pennsylvania agriculture has to offer and you'll love seeing the blue ribbon winners. You'll also see quilts and handmade crafts and just watch your children's delight in seeing all the carefully raised farm animals compete to win their own prizes.
---
Most People Love the Fair
Everybody Loves a Carnival
You'll find shows and exhibits that will make you laugh and make your skin crawl. Try your luck at the many games of skill and games of chance. There's always a winner and tons of prizes. Before you know it, you'll have the fever. Don't worry it happens to everybody. And lets not forget the thrill rides. Be prepared to scream, giggle and wanting more. You'll find rides for every age.
Come early and plan to stay late, because the Clearfield County Fair is known for its selection of the best in name acts. It's an outside concert that can only be experienced at a County Fair Grandstand. Before you know it, you're stomping your feet and waving your hands in the air. You might even get to see many of the acts just roaming though the fair grounds enjoying themselves as much as you are.
The Grandstand is always buzzing with activity from one show to another, with seating capacity for 5,000.
I can't imagine anybody not loving the Harness Racing. The clay based, all weather, half-mile track, is the scene of 4 days of Harness Racing that always starts Monday through Thursday, at 1:pm post time.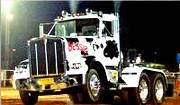 Stunt show fans can see some great action on Saturday at noon, when the Imperial Stunt Drivers show their dare and devilry at the Grandstand. You can watch a Full Pull and Tractor Pull. Like I said, there is something for everybody.
Let's not forget the Fireman's Parade and Fireworks display at 6 p.m. at the Grandstand! And of course every year there is a Clearfield County Queen crowned on Sunday, the last day of the County Fair at 3:00 p.m.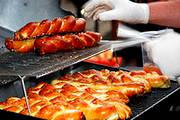 Last but not least by any means, we have to brag about the food. You better arrive hungry, you'll smell the wide variety of food cooking the moment you walk through the gate. You'll find every type of food you can imagine and much of the food you never imagined but you'll want to try it all.
There is just nothing like a Pennsylvania County Fair, and the Clearfield County Fair really lives up to its expectations.
---
Directions - Prices - Information to
Clearfield County Fair
DIRECTIONS:
The Fair Grounds to the Clearfield County Fair is located off of US 322/ SR 153 just west of downtown Clearfield. It can be reached from the Clearfield exits of I-80 (Exits 111 and 120). Visitors coming from the south should take SR 453 from Tyrone to Curwensville, and follow SR 879 to Clearfield, following through downtown on SR 153 North. Watch for signs. Get your copy of the Clearfield County Fair Guide, available at the Fair Park office, many businesses throughout the county, or at the tourism office located at 12 North Front Street in Clearfield.
Phone: 814) 765-1749
ADMISSION PRICES
10 AM TO 10 PM - All rides included in price!
PARKING $3.00
EVERYDAY IS SENIOR DAY AGE 65 FREE!
Gate Admission Includes Access to All Exhibits-Livestock, Agriculture, Photography, Art, Floral, Clothing/Needlework, Baked Goods, Canned Goods, 4H/FFA Projects; Harness Racing; David H. Litz Grove Stage Entertainment-3 Shows Daily; Chainsaw Carver; Firefighter Show; Petting Zoo and Animal Racing; Fireman's Parade & Fireworks (Monday at 6 PM); Horse Pull (Friday at Noon); Old Town Sportsmen's Exhibits; Vendor displays in the Expo I, Expo II and Grandstand buildings.
NOTICE!: Pennsylvania Mountains of Attractions is not responsible for any of the sites we post on this website. We are reporting the sites and information for entertainment purposes only. We are not legally responsible for any opinions expressed by the sites we mention. All material is as accurate as possible, but we do caution visitors to the site to contact sites that they may want to visit for further information, price changes, updates or cancellations.





Return from Clearfield County Fair to Pennsylvania Fair Guide

Return to Pennsylvania Mountains of Attractions Home