Cambria County Fair
Opens Labor Day Weekend!
Cambria County Fair
September 6th - September 12th, 2015 ALWAYS BEGINS LABOR DAY WEEKEND - ENDS FOLLOWING WEEKEND
Ebensburg Fairgrounds-Old US Route 219
Ebensburg, PA
Phone: (814) 472-7491
DO YOU KNOW OF A PENNSYLVANIA FESTIVAL, FAIR or EVENT?
Suggest a Pennsylvania Festival, Fair or Event Here or Read What other Visitors Wrote
Labor Day weekend in Central Pennsylvania wouldn't be the same without the Cambria County Fair sticking to its annual tradition. It's not only one of the oldest County Fairs in Pennsylvania it's also one of the most reasonably priced and centrally located fairs in the Allegheny Mountains.
Just pay your admission price and you're free to enjoy all the rides, exhibits and grandstand shows. The only extra expense is the games and food. By the way, did I mention free parking too? Now how can you beat that?
The Cambria County Fair runs from Labor Day Weekend to Following Weekend. It's located in Ebensburg, PA. It's only about ½ mile north of Ebensburg, on old US Route 219. It's only about 20 miles from Johnstown, 30 miles from Altoona and about 50 miles from Pittsburgh.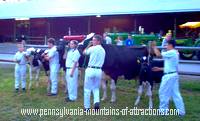 You're going to be amazed at all the great agriculture, livestock and homemade arts and crafts located throughout the exhibits. You might even pickup a few new gadgets being demonstrated.
The very first fair held in Ebensburg was in 1891. Charles M. Schwab actually had a hand in making the Ebensburg Fair bigger although his idea had to be put on hold during the early 1900s due to lack of funds. By the 1920s Cambria County took over the ownership of the fairgrounds and turned the well-known fair into the Cambria County Fair. Due to devastating fires and repairs through the years the Cambria County Fair that we know today wasn't really in motion until the mid 1960s.
You'll See Lots of Entertainment at
The Cambria County Fair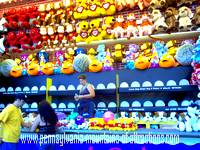 Who can resist playing all those midway games? As much as you tell yourself you're not going to waste your money on all those games you always end up doing it anyway. There's always a winner and the prizes really are pretty cool. Especially when you're on a date and want to impress that pretty girl or you're kids are just not going to leave without that stuffed animal they have their eye on.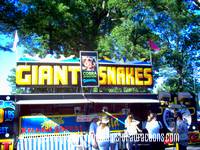 Let's not forget all those great shows on the midway. You just never know from year to year what kind of shows you'll see. I've seen anywhere from giant snacks, fire-eaters, bearded ladies, the lizard man and a dolphin lady to a real burlesque show. Like I said, you just never know what to expect.
The grandstand shows are always a favorite. It's pretty surprising some of the top names in entertainment are actually performing at a Pennsylvania County Fair. Then to have the grandstand shows included in the price of admission into the fair is what really blows your mind.
The Grandstand Entertainment for 2011 Grandstand Entertainment to be Announced: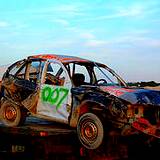 What a great Grandstand lineup of great entertainment for the entire family. Make sure you take a jacket along. The Allegheny Mountains can get a bit brisk during the evening.
Bring your family to one of the last big Summer Flings in Pennsylvania. You're going to love being in the Pennsylvania Mountains and you're going to fall in love with the Cambria County Fair.
NOTICE!: Pennsylvania Mountains of Attractions is not responsible for any of the sites we post on this website. We are reporting the sites and information for entertainment purposes only. We are not legally responsible for any opinions expressed by the sites we mention. All material is as accurate as possible, but we do caution visitors to the site to contact sites that they may want to visit for further information, price changes, updates or cancellations.



Return from Cambria County Fair to Pennsylvania Fairs

Return to Pennsylvania Mountains of Attractions Home