BULLSKIN TOWNSHIP HISTORICAL SOCIETY'S 'HERITAGE DAYS' - October 18th & 19th, 2014
by Bobbi Kramer
(Everson, Pa)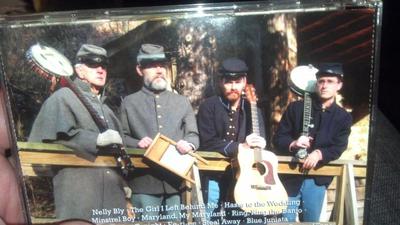 'ACOUSTIC SHADOWS OF GRAY'
'Heritage Days' is a down-home, family oriented Festival that takes place on October 18-19 from 11 am-5 pm at the historic Mt. Vernon Iron Furnace in Wooddale, Pa. We are located off Rt. 982. (from Connellsville, turn right off Rt. 119 onto Rt 982, follow signs. Our festival is in a beautiful, peaceful, wooded area. Their is picnic table seating and also seating in the Iron Furnace area.


There will be plenty to see and do for both adults and children.
Visit our period dressed artisan booths with a Tinsmith, 'The Soapy Goat' soapmakers, Blacksmithing, Woodworking, Basket Weaving, Jewelers, and much more.
The best homemade food ever! On Sat. we will have homemade pie, on Sunday apple dumplings. On both days we will have yummy homemade bean soup and chile, the best-ever pulled pork and other refreshments
Music this year will be outstanding! Listen to the haunting sounds of the acoustic Civil War band, 'Shadows of Blue and Grey', amazing young voice of Taney Basinger, Country-Bluegrass by 'The Travelin' Roadshow', Eric Harvey (Country), and 'The Chestnut Ridge Gospel Band'
Visit our historical displays and come listen to our historian on the Mt. Vernon Iron Furnace, Jim Whetsel who give talks every few hrs. Bob Kramer will demonstrate Colonial Soapmaking Our period dressed, circuit riding preacher, Rev. Terry Guiste, will visit us on his horse. Art and Writer's Contest winners will be announced Saturday morning.
Make your rounds to the antique tent, art displays and a booksigning for the book, 'Lest They be Forgotten', two sagas of Bullskin/Connellsville families in the 1700's and 1800's.
visit our website www.bullskintownshiphistoricalsociety.org
for more information