BULLSKIN TOWNSHIP HISTORICAL SOCIETY'S 'HERITAGE DAYs, October 17th & 18th, 2015
by Bobbi Kramer
(Bullskin Township Historical Society)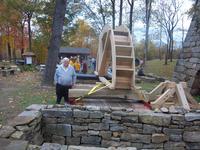 Our festival has been so successful, we had to extend it to two days! (Oct 17, 18) We hope you can join in the fun with us this fall.

Once again we will have great musical groups, the BEST homemade food, an art contest, photography contest, writer's contest, queen contest, baby contest and more.

You can check out the period dressed vendors-- some will be demonstrating their artisan crafts.

We are a 'down-home family festival' and we like to brag about that! There is something for all ages of your family.

Children have a craft booth and the Bull Run parade to participate in. There is a writer's contest for children in the 4th-6th grade as well.

For information on any of the contests, email snshine8@cvzoom or kbrown4625@aol.com

Visit our historical Mt. Vernon Furnace grounds located in Wooddale, Pa. It is the site of Isaac Meason Sr and Jr's Iron Furnace that has been restored by The Bullskin Township Historical Society. This year member Jim Whetsel hand made the huge wooden wheel that will be mounted to the Furnace in time for the Festival. This is part of an on-going effort by BTHS to restore the furnace grounds to how it was when the furnace was built in the late 1700's and was in operation into the 1800's.

Visit our historical cabin to look at artifacts, buy souvenirs and books and more.

Yes,you will have a great time if you like good food, great music, friendly people and a beautiful, serene wooded area to stroll around!

Check out our schedule for the dates,times of events and entertainment in the pictures attached. See ya soon!