10th Annual Austin Dam Show - July 28, 2012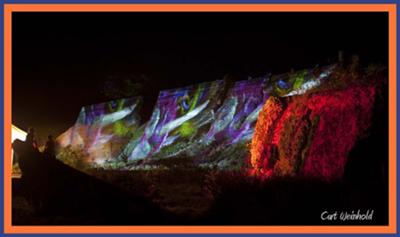 The Dam lights up at night!
The Dam Show at Austin is an annual music festival that brings live music and its fans to a remote part of Northcentral Pennsylvania. The show is held at the Austin Dam Park, where the remains of a giant concrete Dam that failed over a century ago still stand. The Dam remains and surrounding mountains create a natural amphitheater and a Dam cool experience. At dark, the Dam lights up with multimedia projection lighting by Groovin' Lumens. It's a sight you won't see anywhere but the Dam Park at Austin.

On Saturday, July 28, 2012, we welcome you to join us for our 10th Annual Dam Show. We're looking forward to shaking things up a bit for our 10th year! With MiZ, Audio InFlux, Flux Capacitor, Modified Nouns (with former members of Big Leg Emma & the New Dylans), Jakob's Hollow and more, as well as the best Dam lightshow around, this year's show promises to make the Dam come alive!

Sponsored in part by a grant from the Pennsylvania Council on the Arts.

For more information and tickets, visit http://damshow.com.